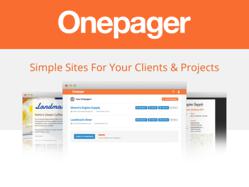 It is a little dose of genius
New York, NY (PRWEB) December 13, 2012
Onepager, a startup offering a simple website builder, announces the release of its new Agency Plan, which allows customers to manage multiple sites and users under a single account. The new features under the plan enable third-party content creators, such as agencies and freelancers, to focus on content and design without worrying about the technicalities of coding or more complex CMSs such as Wordpress. At larger companies, employees can instantly build webpages for in-house projects, no matter their web design skill level. And the new Private Labeling option allows for custom admin pages that make clients' experiences seamless and brand-specific.
Ogilvy & Mather has already adopted Onepager as a key tool for its Ogilvy Digital Marketing Academy. "From the stylish and supremely easy drag-and-drop editing, easiest domain-mapping, and speedy support, we are thrilled to have Onepager in our teaching toolkit," says Maximillian Kaizen, Program Director. "It is a little dose of genius."
The added support for multiple users and sites allows freelancers and agencies to enjoy the benefits that Onepager has offered small businesses since its beginning. Onepager's intuitive and affordable approach to site-building has helped small businesses all over the world—whether it's a restaurant, yoga studio, news provider, or even a pocket square designer—to create self-made, professional-looking websites. And with built-in mobile readiness and customizable features, Onepager combines design with robust functionality in a simple, one-stop process.
Dogfish Head Craft Brewery has turned to Onepager to quickly develop promotional sites for special events. "Onepager rocks! It's a simple system to use and maintain and allows for fast prototyping of a new site," says IT Manager Trey Bowden. "Any time that our marketing team comes up with a new web initiative, I know that we can rely on Onepager to fast track that idea to a completed site quickly."
About Onepager
When companies face limited resources and an increasing need to stand out, Onepager helps them make their mark online while saving time and money. Whether you're making a site for your business or making sites is your business, Onepager's platform provides an easy, quick way to create and manage beautiful, tailor-made webpages, giving you more time to focus on your business. To start building, visit onepagerapp.com.