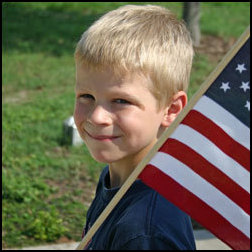 You can't eat atmosphere
Norwalk, Conn. (PRWEB) June 5, 2007
Who says July 4th fun is just for kids? Not AP9 SimpleEscapes, a leading discount membership program offered by Adaptive Marketing LLC. On the contrary, the folks at AP9 Simple Escapes want to give all its members, both young and old, a recipe for family fun this upcoming Independence Day.
No matter what's on the docket -- basking in the sun, poolside, readying the barbecue for hungry friends and relatives or just making plans to attend a fireworks show -- AP9 SimpleEscapes has a few ideas about how to commemorate America's birthday in style. To get in the celebratory mode, just think of the following good-time suggestions as one big powder keg of activity. As soon as the fuse is lit … the fun starts:
-- Location, location, location ... and time. There hasn't been a gala event yet that didn't have a well-chosen venue. If celebrating the stars and stripes means throwing a big bash, book a local park, meeting hall or a friend's spacious back yard well in advance. Being spontaneous has its pluses, but don't forget. The biggest risks with waiting until the 11th hour can be two-fold: 1) All of the big July 4th party venues might already be booked. 2) Friends and family members might have already committed to other plans.
-- Let 'em eat, drink and light sparklers. There's an old saying that goes, "You can't eat atmosphere," when it comes to enjoying food and drink. But that doesn't mean that a smartly dressed picnic/dinner table won't add to the fun. Star-shaped napkins, serving trays, plates and bowls will keep guests feeling patriotic while they chow down on munchies and other eats. And all kids (plus plenty of "grown-up" kids too) love sparklers. Be sure to put them atop cakes and other desserts for some further festive eating. Just don't let the little ones play with sparklers without adult supervision. They can be dangerous if carelessly handled.
-- Let the games begin. Conducting outdoor games is yet another great way to honor Old Glory, suggests AP9 Simple Escapes. Depending on the size of the gathering, choose up sides for tug-of-war, organize egg-and-spoon races, and keep things cool with balloon tosses -- using red, white and blue ones, of course.
-- Get a good seat for the show. Virtually every town in America features some kind of fireworks show. Make plans to get to the light show early, and stake a claim to a prime viewing spot.
For 4th of July fun guaranteed to keep even the great Betsy Ross in stitches, check out AP9 SimpleEscapes. And for savings on other fun pursuits, from family vacations to theme park excursions to spur-of-the-moment, romantic getaways, all the signs point towards AP9 Simple Escapes.
About AP9 SimpleEscapes
AP9 Simple Escapes is a leading membership discount program offered by Adaptive Marketing LLC. Headquartered in Norwalk, Conn., Adaptive Marketing is a category leader in membership programs, bringing value direct to consumers through an array of benefits in healthcare, discounts, security, personal property and personals. Members may access their benefits at SimpleEscapes123.com. With broad online and offline distribution capabilities, Adaptive Marketing offers its corporate client partners effective tools to enhance market presence, strengthen customer affinity and generate additional value through programs such as AP9 SimpleEscapes.
###