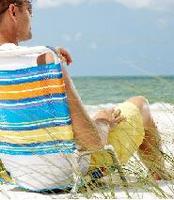 Norwalk, Conn. (PRWEB) January 28, 2008
Safety is probably the last thing on the mind of most college students when they're planning a spring break getaway. For them, the itinerary, sunbathing and clubbing attire takes precedent over other important issues while traveling. Simple Escapes (SM), a leading travel and entertainment savings program offered by Adaptive Marketing LLC, has some simple and practical safety tips for all spring breakers to keep in mind during those wild days.
It's well known that spring breakers "break loose" during their trip, and outrageous behavior is part of the amusement college co-eds are looking for. While having fun during the break should be a top priority, safety should also be at the top of the list. AP9 SimpleEscapes reports some simple safety tips to practice during spring break:
-- Do research. Look for recent information about the vacationing place. Read local papers and do some research online to find out if special safety measures are needed. Make sure everyone in the group is aware of the location of the nearest police station and hospital or medical center.
-- Learn the local rules. According to the U.S. State Department website, over 100,000 American teenagers travel to Mexico during spring break. The same website reports that many of those teenagers get in trouble with the law or even get into accidents because they aren't aware of local regulations about drinking, driving, possession of firearms and more. It's very important to be know local laws and to be able to find the nearest U.S. Consulate, U.S. Consular Agency, or the U.S. Embassy in Mexico City, in case trouble arises.
-- Stick to threes. The buddy system is an old way to stay safe, but it works. Three is the magic number because if one person gets in trouble or feels sick, a second one can stay put while the third one gets help. Buddies keep an eye on one another and can be the voice of reason when too much sun or alcohol comes into play.
-- Stay in touch. Make sure someone at home has all the trip information, from the phone number of the hotel to the itinerary. It's also a good idea to stay in touch with close friends or relatives; short calls or emails don't take time and will reassure them of your well-being and whereabouts.
-- Don't drink alcohol. Abstaining is the sane thing to do, although it's exactly the opposite of what spring breakers do. Those of legal age who decide to drink must remember not to drive under the influence and have a plan for knowing when to stop and how to refuse more alcohol, even under peer pressure. When drinking, stay within reach of your friends, and don't leave unattended anyone who passes out due to alcohol intoxication.
-- Use common sense. General common sense rules that apply at home should be followed during a spring break vacation. Lock the door at the hotel, look through the peephole before opening the door, and don't interact with strangers, especially when alone or after a few drinks.
Safety precautions aren't meant to deter spring breakers from having a wonderful time with their college buddies, but it is better to be safe than sorry. Another safe bet is to get discounts on travel arrangements, entertainment, meals, shopping and many other benefits with the savings program Simple Escapes.
About Simple Escapes:
AP9 SimpleEscapes is a leading membership discount program offered by Adaptive Marketing LLC. Headquartered in Norwalk, Conn., Adaptive Marketing is a category leader in membership programs, bringing value direct to consumers through an array of benefits in healthcare, discounts, security, personal property and personals. Members may access their benefits at SimpleEscapes123.com. With broad online and offline distribution capabilities, Adaptive Marketing offers its corporate client partners effective tools to enhance market presence, strengthen customer affinity and generate additional value through programs such as Simple.
###