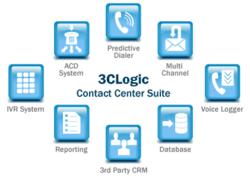 We are proud to say our productivity rates have increased upwards of 80% since switching to 3CLogic.
Rockville, MD (PRWEB) May 24, 2012
3CLogic, the leader in cloud based contact centers hosted on Amazon Web Services (AWS), is proud to welcome Simple Call Solutions onboard after switching to 3CLogic's cloud based contact center software from their previous system. Providing 24/7 outsourced service and support to clients in various countries, Simple Call Solutions delivers flexible and innovative services for administering Inbound and Outbound campaigns. With traditional call center vendors, businesses are often forced into long term agreements with software that only covers a few of their business requirements. For Simple Call Solutions, the ability to integrate their own carrier with 3CLogic's cloud based call center software is essential for its success.
Simple Call Solutions, located in Costa Rica, provides exceptional outsourcing services in areas such as outbound sales campaigns, telemarketing and inbound customer support. Similarly, Simple Call Solutions provides services to its customers for credit card processing as well as order taking. 3CLogic provides Simple Call Solutions with comprehensive reporting tools to efficiently manage customer campaigns. For Simple Call Solutions, following up with customers is a critical aspect of providing superior, 24/7 support. 3CLogic provides Simple Call Solutions with scheduled call back and reminder tools to enhance their customer support experiences and productivity.
Dennis Fitzgerald, CEO of Simple Call Solutions stated, "With traditional Contact Center Solutions in today's market, it's almost impossible to find a company that works with your unique business needs. 3CLogic allows us to incorporate our own trusted carrier while providing us excellent service quality at the most efficient prices in the industry. We are proud to say our productivity rates have increased upwards of 80% since switching to 3CLogic."
Simple Call Solutions benefits from 3CLogic's real time and historical reporting tools. With their previous system, Simple Call Solutions lacked the ability to track all incoming and outgoing calls in addition to other necessary reporting tools. With 3CLogic's contact center software, Simple Call Solutions can now track, monitor and save all reports in both real time and historical formats.
"We know that providing our customers with the right tools to effectively manage their call center operations is critical to their success," said Raj Sharma, President and CEO of 3CLogic. "We are pleased to offer Simple Call Solutions advanced features required to provide excellent outsourcing services and 24/7 inbound support to their valued customers. Simple Call Solutions can now have complete access to all inbound and outbound calls with reporting features customized for their industry."
By switching to 3CLogic's Contact Center Solution, Simple Call solutions can provide its customers with reliable and comprehensive technological features for all of their business needs ranging from appointment setting to order processing. The 3CLogic software allows Simple Call Solutions to efficiently administer 24/7 Inbound support while also providing outsourcing solutions to any industry in any location.
About 3CLogic:
3CLogic, headquartered in Rockville, Md., offers a full suite of cloud based inbound and outbound customer interaction channels such as voice, chat and social media, which integrate with existing Customer Relationship Management (CRM) software. This integration provides businesses with a 360 degree view of all customer interactions regardless of the channel chosen by their customers. With 3CLogic's cloud based Contact Center, companies have more accurate and timely information about their prospect or customer and they can more efficiently respond to communications, ensure customer satisfaction with better service, and drive toward a larger lifetime value of each account, customer or client. For more information, please contact 3CLogic at 800-350-8656 or info(at)3clogic(dot)com. http://www.3clogic.com.
About Simple Call Solutions:
Located in Costa Rica, Simple Call Solutions offers 24/7 Inbound Support services worldwide. With Support lines covering multiple languages such as English, Spanish, French, Portuguese and more, Simple Call Solutions provides top of the line customer support and outsourcing answering services to businesses everywhere. Specializing in custom-tailored solutions for companies seeking PBX setup, VoIP (Voice over IP), Call Center outsourcing and telemarketing, Simple Call Solutions aims for exquisite customer service as well as innovative and flexible solutions for business of all sizes. Similarly, Simple Call Solutions offers outbound telemarketing, customer retention, order processing, answering services as well as lead generation and sales processes. For more information on Simple Call Solutions, please visit http://www.simplecallsolutions.com. Or, connect with them on Facebook: http://www.facebook.com/SimpleCallSolutions.