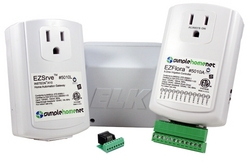 Allowing users the ease to control their irrigation needs from anywhere based on changes in the weather or soil conditions will result in lower energy bills and contribute to water conservation efforts
San Juan Capistrano, CA (Vocus) March 3, 2010
SimpleHomeNet announces the immediate availability of their Smart Irrigation Control and Monitoring Kit featuring the newly released Harmony GUI designed to let users easily and intuitively monitor and control their home automation network (HAN) from the Internet. The Harmony interface affords the ability to control irrigation from anywhere offering the flexibilty needed to maximize the efficiency of water consumption and save money. Through Harmony the EZFlora irrigation controller is easily programmed for complex or simple timers based on several criteria or conditional events.
The Harmony GUI is the latest addition to the broad offering of control, monitor and sensing products designed and developed by SimpleHomeNet. The Flash-based drag and drop operation offers users a unique graphic opportunity to easily configure their own HAN.
"Allowing users the ease to control their irrigation needs from anywhere based on changes in the weather or soil conditions will result in lower energy bills and contribute to water conservation efforts" says President, Al Choperena. "The intuitive drag and drop operation of the new Harmony GUI is an unprecedented vehicle for water flow management."
The kit includes the EZSrve home automation gateway controller, the EZFlora 8-zone irrigation controller, an ELK 24VAC transformer, and the EZBreakout Connector. The EZBreakout Connector offers simple connectivity to interface the EZFlora with third party items the user may wish to incorporate into their system such as a pulsing water meter, rain sensor, or soil moisture sensor. SimpleHomeNet has plans in the future to add a soil moisture sensor device to their product line.
EZSrve is a powerful, expandable yet flexible, HAN gateway/controller. Its stand-alone, low-power consumption allows for operation with or without a PC for enhanced residential, commercial or industrial control of most Insteon and X10 enabled devices.
EZFlora manages timers for the duration of each sprinkler zone, either individually or in pre-programmed sequences. Up to four independent programs may be set giving EZFlora unparalleled flexibility to keep lawns, gardens, vineyards and orchards in optimum health.
# # #