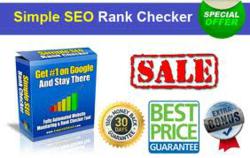 Simple SEO Rank Checker appears to be a robust, multi-faceted and real-life-useful software product for website owners, especially for owners of multiple sites.
(PRWEB) October 03, 2012
If Simple SEO Rank Checker is truly what it claims to be, webmasters may very well be clamoring to get their hands on this new, proprietary software.
Why? Search Engine Optimization is entirely different this year, thanks to algorithmic updates by Google this past spring. Effectively, SEO metrics which site owners had grown comfortable with in previous times are all but irrelevant. It could be argued that nobody, short of Google's own programmers, know exactly what the web crawlers like or not. As a result, causality has become the default mode for SEO practices today.
In other words, it is necessary to specifically know page rankings, then watching how they change, real time, in response to changes, additions and updates to each website. It takes a robust, precision tool to handle this pivotal analytic task, and Simple SEO Rank Checker posits that it has just what the SEO doctor ordered.
Here are some of the things webmasters can do with the software:
--Create an unlimited number of ranking projects for all websites- this allows users to see exactly what's going on with all of their sites (or their clients' sites) at any time
--Add hundreds and even thousands of page urls and keywords to enable monitoring and ranking position retrieval – using the integrated web crawler.
--Manually retrieve Google, Bing and/or Yahoo rankings either for individual keywords or for entire ranking projects
--Or schedule the automatic retrieval of Google, Bing and/or Yahoo rankings for some or all projects on a daily, weekly or monthly basis. The scheduler will automatically launch the application in the background, retrieve all the ranking positions according to user setup and save them for later retrieval.
--Create either simple ranking reports in text format or professional PDF reports with graphical charts and detailed ranking history data ordered by date. Ranking reports can be generated with the click of a button for individual keywords or for all the keywords in a specific ranking project.
--Use the integrated alert system to get an email alert whenever one or several of rankings either drop below a specific position or rise above a specific position on Google, Bing and/or Yahoo. That way, users can immediately react and create more backlinks for dropping pages or stop backlink building efforts for pages that reach a specific target position. – This allows users to maximize the income potential of their sites with a minimum amount of effort.
Simple SEO Rank Checker appears to be a multi-faceted and real-life-useful software product for website owners, especially for owners of multiple sites. While this product will eventually retail for $67, it will be selling for $47 for a short period after launch, which occurs on October 4th. It also comes with three bonuses.
Click Here for the Simple SEO Rank Checker website or HERE for the full review.
Reviews-Domain.com is a broad-sweeping review site, where author, editor, and person of many interests John Taggart shines the limelight on products of every persuasion. John has always been a bit of a Renaissance Man and seems to have a knack for nuance, so we suggest you tune in when he profiles a product for review!