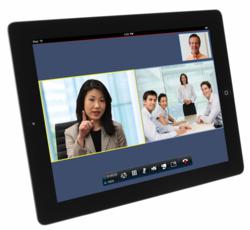 Our new hosted video conferencing solution is the perfect combination of amazing technology, fantastic value, and zero hassle.
Las Vegas, NV / Denver, CO (PRWEB) February 25, 2013
SimpleSignal, Inc., the leading cloud-based unified communications and collaboration (UC&C) provider for business, announced today that it will be demonstrating SimpleMeetup Video, its recently launched enterprise-grade, hosted video conferencing service, at the upcoming Channel Partners Conference and Expo in Las Vegas, February 27 - March 1. You can view the original product launch press release here.
SimpleMeetup Video provides all the power and features of Polycom's premise-based video conferencing systems in a fully-outsourced video as a service (VaaS) solution without on-premise video infrastructure and the capital expense and maintenance that comes with it. SimpleMeetup Video offers a scalable and secure video conferencing option that is compatible with telepresence systems including Polycom, Cisco, Lifesize and Tandberg, with more coming in 2013. Setting up a video conference is as easy as dialing into a video bridge.
Some of the key features of the service include:

Anytime, on-demand, HD quality video conferencing for 2 to 100 participants without an on-premises MCU
Highest level of reliability and compatibility using Polycom RealPresence™
Scalable, secure, easy to use
Any-to-any connectivity "bridges the islands" of other consumer and business video conferencing solutions
SIP and H.323 compatible
IOS and Android compatible
While other new products will be featured and demonstrated, the main focus of SimpleSignal's Channel Partners exhibit is on the power of video and its key role in communications and collaboration moving forward. SimpleSignal will be performing live demonstrations of SimpleMeetup Video featuring a Polycom HDX 4500, connected to various mobile devices including iPhones, iPads and Android devices running the Polycom RealPresence app in a multi-person video conferencing scenario using the hosted SimpleMeetup Video conferencing bridge. The demos will run throughout each day of the conference on the show floor at booth #2002.
"Providing high quality affordable video conferencing was a major initiative for SimpleSignal and we could not be more pleased with what we have to offer," said Dave Gilbert, CEO of SimpleSignal. "Our new hosted video conferencing solution is the perfect combination of amazing technology, fantastic value, and zero hassle."
SimpleMeetup Video is part of the SimpleMeetup Suite of collaboration tools, which also includes SimpleMeetup Audio, a hosted HD audio conferencing service, and SimpleMeetup Desktop, a web conferencing service that includes desktop and video collaboration in one convenient solution.
About SimpleSignal
SimpleSignal is an enterprise hosted PBX and cloud-based Unified Communications service provider, delivering voice, video, and mobile communications to thousands of satisfied business customers globally. The company provides the most innovative and advanced mobile/video PBX capabilities in the industry, and is one of the first companies ever to extend video PBX telephony over iPads, iPhones, and Android mobile devices that can connect with any brand of video conferencing equipment. For more information, visit http://www.simplesignal.com, check out the company blog at http://www.simplesignal.com/blog, or connect at facebook.com/simplesignal and twitter.com/simplesignal.