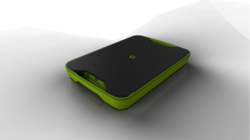 "We have introduced the Cooking Class Special, Restaurant Special and new colors, but our rewards do not stop there."
New York, NY (PRWEB) September 14, 2012
Simpleware's perforated cutting board, FLOW, is gaining popularity within the Kickstarter community, and now founders Ola Ahlmen and Peter Hauser have begun introducing new and exciting rewards to supporters.
In response to the most popular demand, the FLOW will now be available with different colored cutting boards so that amateur and professional chefs alike can use different colors for different foods. This will prevent cross-contamination of bacteria, juices, and smell. The colored boards will be available in three new rewards. For $28, backers will receive one cutting board and one color. For $72, backers will receive three different boards - red for meat, green for vegetables, and yellow for poultry - and one collection tray. For $87, backers will receive four colors - red, green, yellow, and blue for fish. You can view the new rewards on their Kickstarter page at bit.ly/FlowKS.
Simpleware announced two additional rewards: the Cooking Class Special and the Restaurant Special.
The Cooking Class Special Reward includes 10 FLOW cutting boards for a pledge of $180 or more, and the Restaurant Special Reward includes 20 FLOW cutting boards for a pledge of $350 or more. "We had restaurant owners ask us for this reward, so we are bringing it to you now," added Ahlmen.
The project's Kickstarter campaign has raised over $10,000 from over 300 backers within its first 10 days. Simpleware has set their funding goal at $25,000, and the campaign will run until October 14, 2012.
FLOW is the world's first perforated cutting board which reduces health risks of contaminating countertop mess by allowing juices from cutting meats, vegetables and fruit to flow into an attached tray. The non-skid rubber feet keep the board in place while you cut, and the juices caught can be used to create gravies, sauces and dressings. The cutting board is BPA free, dishwasher safe and can easily be stored after each use.
"We are noticing a lot of suggestions from our backers about FLOW," says Hauser. "We have introduced the Cooking Class Special, Restaurant Special and new colors, but our rewards do not stop there. Stay in touch on Facebook and Twitter to find out when we'll be releasing one of our most requested features."
With 30 days left to go, you can support this new cutting-edge project here: http://bit.ly/FlowKS. To keep up with new rewards, follow @Simpleware on Twitter and "like" Simpleware on Facebook at https://www.facebook.com/simplehouseware.
About Simpleware
Simpleware is a new brand that offers unique kitchen products. Founders Peter Hauser and Ola Ahlmen first created Simpleware with their introduction of FLOW. Peter's design and development background combined with Ola's experience bringing products to market has built the perfect relationship for success. Visit http://www.simplehouseware.com to find out more information on Simpleware.