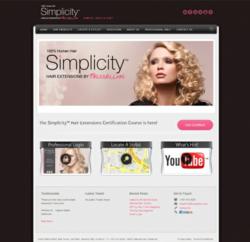 We want it to be easier than ever to learn about, use and connect with Simplicity.
Beverly Hills, CA (PRWEB) May 14, 2012
Simplicity Hair Extensions, the 100% premium quality human hair extensions with the patented comfort grip adhesive strip, has a new website live and is ready to help you take your business to new lengths. SimplicityHair.com is the new home of these revolutionary hair extensions, and features a sophisticated, sleek design that offers great educational resources, extensive before/after photo galleries, a full color chart and product list of Simplicity's simple, safe and fast hair extensions, and more! There's even a certified stylist locator designed to help Simplicity devotees find certified local salons and stylists, with the option of adding your business to the list of those Luxe salons who are already providing this must-have service.
Just getting started with Simplicity? No problem! SimplicityHair.com now provides online product certification, with a step-by-step online coursework in tandem with certification kits mailed to students. The website also includes how-to guides, home hair care help, and a registration section. It's oh-so easy to get started making more money and catering to more customers.
"Because growing your business should be simple." says M. Evan Parker-Calderon Director of Sales and Marketing for Simplicity. "We are so excited to introduce our new virtual home, and this intuitive and innovative site is truly designed with the stylist in mind. We want it to be easier than ever to learn about, use and connect with Simplicity Hair extensions and grafts. Providing application ideas, business-building tips and a user-friendly interface, it's an online experience that's as simple to use as Simplicity Extensions are to apply."
Simplicity Hair Extensions are a patented, groundbreaking new system of hair extensions. Utilizing a revolutionary adhesive technology that binds securely and easily to the client's natural hair, Simplicity's head-turning extensions can be applied in half the time, allowing the client to transform her tresses during a lunch break, saving serious hours for the stylist and client alike. These highest quality, 100% human hair extensions allow for an infinitely more comfortable fit for the client. Boasting a basic three-step application process, a lower cost to the consumer, and infinite, commitment-free styling possibilities, Simplicity by TressAllure has made the hair extension process what it truly should be: Simple. Safe. Fast...pure Simplicity.