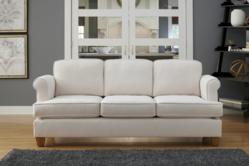 First of all, I would like to say that the entire furniture industry should learn from your company.

Abe Abbas, Chief Editor About.com/Furniture Blog
High Point, North Carolina (PRWEB) October 31, 2012
By 2007 most of the big furniture companies had already transferred some or all of their production overseas. Many more would follow over the next few years. Other manufacturers of all sizes simply closed their doors. 40% of American furniture manufacturing workers were laid off between 2007 and 2011. 2004-2011 Furniture Industry Statistics Small American manufacturers were in big trouble in all industries.
Simplicity Sofas invents, designs, builds and sells its own unique furniture products. Furniture for Impossibly Tight Spaces Jeff Frank, Simplicity Sofas' owner explains that every aspect of the company works together to take advantage of the weaknesses of foreign competitors.
According to Mr. Frank, "Overseas furniture manufacturers have only one real advantage. They are able to cut costs by using low cost labor, high speed mass production and cheap raw materials. Concentrating so narrowly on cost reduction, however, leaves them vulnerable in a number of other areas which Simplicity Sofas exploits."
According to Mr. Frank these areas include:
1. Product design for furniture shipped across the ocean focuses first and foremost on minimizing cube to reduce freight costs. Without that design constraint Simplicity Sofas was able to drastically improve other design aspects such as ease of assembly, style and multi-functionality.
2. Overseas furniture manufacturers require huge production runs of identical items. Simplicity Sofas utilizes an extreme modular customization process that enables the company's craftspeople to hand-build any of more than 1 million different product variations one-piece-at-a-time in 30 days or less. This is achieved using only thirty different frame components and a minimal raw materials inventory valued at less than one month's sales.
3. Selling large quantities of furniture from overseas factories requires manufacturers to constantly seek new methods of reducing costs. In contrast Simplicity Sofas is constantly seeking ways to improve quality and service. The company offers its customers a wide range of prices on its products. The least expensive products are by far the poorest sellers. Since Simplicity Sofas' products are not price sensitive the company does not need to run "sales" and does not discount its furniture to attract new customers.
4. Overseas manufacturers have no control over the level of customer service received by consumers who buy their products. By strictly controlling all aspects of its customer service, Simplicity Sofas was able to field test a theoretical "extreme" customer service model devised by owner Jeff Frank. The success of that model has gained national recognition in both the Furniture and CX (Customer Experience) industries. Mr. Frank will be speaking about this "extreme" customer service model at the Furniture Industries National Convention in Naples, Florida later this month. Word of Mouth Testimonials
Mr. Frank believes that small, flexible furniture manufacturers are the wave of the future. "Customers are getting tired of walking into stores and seeing the same furniture everywhere they go. The industry also needs to wake up to the fact that in a world with Zappos and Starbucks and Wegmans, furniture customers are not going to tolerate such a poor overall level of customer service for much longer. Most important of all is that U.S. furniture customers are seriously searching for Made in America products and many of them are willing to pay the slight extra cost involved for superior quality and service."