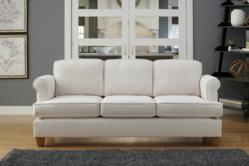 "...there are no new innovative companies in wood furniture manufacturing left in North America. Jeff Frank's company [Simplicity Sofas] might be the closest thing to it in upholstery manufacturing."
Robert W. Mark, CEO Robert Mark Consulting
High Point, NC (PRWEB) October 23, 2012
Simplicity Sofas opened its High Point, NC factory in November 2007, three weeks before the official beginning of the Recession. The company specialized in Furniture That F.I.T.S (Furniture In Tight Spaces) large and small sofas and other upholstered furniture designed to fit into small rooms and through narrow doors and stairways where normal furniture could not go.
While the overall American furniture industry suffered a massive decline between 2007 and 2011, Simplicity Sofas, with limited financial resources, and without seeking government assistance, grew quickly and steadily.
In May, 2010 the company outgrew its original manufacturing facility and moved to a much larger factory located nearby.
Less than 10 miles away from the Simplicity Sofas factory is the headquarters of Furniture Today, the furniture industry's leading trade publication. Its staff prides itself on knowing everything important that goes on within its industry. High Point, NC is also the home of the International Home Furnishings Market. Twice a year 100,000 furniture professionals descend on High Point to see the industry's latest product introductions.
In June 2012, after nearly five years in business, Simplicity Sofas was contacted by three different editors working out of the Furniture Today headquarters. Each of these individuals first learned of Simplicity Sofas through completely different sources. None knew that the others had also contacted the company. But they all had the same question, "Who Are You Guys?"
Ray Allegrezza, Furniture Today's editor-in-chief first learned of Simplicity Sofas through an article citing the company as a finalist for the prestigious CX Innovations Awards, presented by the Customer Experience Professionals Association, a 1500+ member global organization for Customer Service Professionals. Simplicity Sofas was the only furniture company listed as an Association member, and the only small business included among the 18 finalists for the Awards. Furniture Today article by Ray Allegrezza
Business Editor Gary Evans discovered Simplicity Sofas while reading a NY Times, Wall Street Journal and USA Today listed best-selling business book, Worth Every Penny, Build a Business That Thrills Your Customers and Still Charge What You're Worth by Sarah Petty and Erin Verbeck. The authors devoted three pages to an analysis of Simplicity Sofas' revolutionary approach to Marketing Strategy. [Mr. Evans' article was published in Furniture Today in the October 13, 2012 issue and will soon be available online.]
Janice Lassiter, Associate Publisher of Home Accents Today, first heard about Simplicity Sofas only after the company called to inquire about placing an ad in one of the publications owned by Furniture Today's parent company. She was astonished to learn that the company's furniture products were unlike anything she had ever heard of before.
With no professional sales force, the company markets its products primarily through Word of Mouth. Faced early on with the problem of customer reluctance to buy expensive furniture online that could not be seen or sat in first, Simplicity Sofas created a nationwide network of former customers who volunteer to show the company's furniture in their homes to prospective new customers.
Simplicity Sofas contacts every customer within one business day after delivery to specifically ask how the customer likes the furniture and whether there are any problems that need to be addressed immediately. That is not a normal furniture industry practice.
After nearly five years and 3000 customers Simplicity Sofas has never received a negative review, either from its customers or from industry professionals. http://simplicitysofas.com/customer-testimonials/