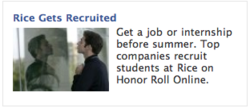 Facebook Advertising is a highly effective way to reach geo-targeted or lifestyle audiences with customized messages
Chicago, IL (PRWEB) June 01, 2011
For Honor Roll Online, a premier career services partner with the country's top small universities and colleges, connecting the best companies in the world with the best candidates requires a large talent pool of exceptional students. The company's online database is in constant need of replenishing with quality student profiles. Simplified Solutions, a Chicago online marketing agency, developed an online marketing plan to drive more website traffic and convert visits into completed profiles.
Simplified Solutions began by redesigning the Honor Roll Online website to create an engaging and user-friendly web experience. A micro-segmented Facebook pay-per-click program was launched to drive brand impressions and clicks. The social advertising campaign targeted students at 75 premier colleges with little or no on-campus awareness of Honor Roll's free placement services. Multiple ads were developed for each campus. A/B testing and analytic insights were used to adjust the ad creative. The results were impressive: Over 200,000 branded impressions,15,000 incremental unique website visits, and more than 2,000 students were added to Honor Roll's online database in just two months.
For more information, contact Tom Casale or Bill Kamper at 312-846-7669 or email the company at info(at)simplifiedsolutions(dot)biz.
Simplified Solutions is a Chicago online marketing agency specializing in planning, social media management, SEO, PPC, mobile marketing and web video production.
###