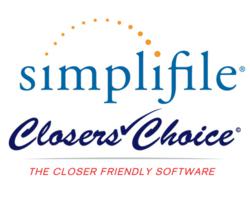 Overall, this integration provides a more robust user experience for Closers' Choice customers.
Provo, Utah (PRWEB) December 10, 2012
Simplifile, the largest and leading provider of electronic recording (e-recording) services, announced a new partnership with Closers' Choice, a Florida-based closing software provider for title companies and law firms across the nation.
With the newly formed partnership and system integration, all Closers' Choice customers can now automatically upload and submit land record documents through Simplifile's e-recording software to nearly 800 counties across the U.S.
"Overall, this integration provides a more robust user experience for Closers' Choice customers," said Simplifile's Director of Channel Sales Mark Ladd. "It's been a pleasure working with the folks at Closers' Choice, and we are looking forward to growing and cultivating new ideas together to benefit our users."
In addition, the partnership enables Closers' Choice customers to be able to securely view all of their packages in Simplifile, where they can further prepare and submit their documents for e-recording within minutes.
"Many of our customers are already familiar with Simplifile and are excited about this integration," said Closers' Choice President Frank Houpt. "We have already had several customers begin sending their documents through the new interface, and they are very happy with it."
Closers' Choice customers that submit documents through Simplifile will also benefit from Simplifile's 24/7 technical support and free training courses. To begin using the new interface, Closers' Choice customers will need to retrieve their assigned organization ID by contacting Simplifile directly at 800-460-5657.
About Simplifile
Simplifile is the nation's largest and fastest-growing e-recording service. Simplifile supports thousands of e-recording customers including title companies, banks, attorneys, lien filers, and other organizations that create and submit documents to nearly 800 local, state, and federal government jurisdictions. Simplifile's electronic document services save time and the expense associated with traditional document submission methods. Simplifile is focused on building the industry's largest and easiest-to-use e-recording service for organizations of all shapes and sizes. More information about Simplifile may be found at simplifile.com or by calling 800-460-5657.
About Closers' Choice
Closers' Choice has been a leading provider of closing and title software for more than 30 years. With its innovative design and 'Closer Friendly Features,' Closers' Choice is the forerunner in the closing and title software industry. With more than 165 years of combined experience in the title industry, the Closers' Choice team has created software that is easy to use, efficient and flexible to the ever changing closing market. For more information visit closerschoice.com or call 800-393-4460.
"Simplifile" is a registered service mark of Simplifile, LC.
# # #