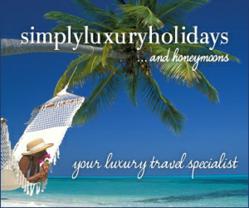 Our new website will enable us to harness this customer loyalty to a much greater degree, by offering a greater range of luxury holidays
Harwell, England (PRWEB UK) 17 May 2013
Simply Luxury Holidays are now proud to share a plethora of new exciting destinations, all offering the ultimate in luxurious accommodation and all in outstanding locations. Whether on a white sand beach, amidst tropical rainforests or in the hustle and bustle of the world's most exciting cites – the new Simply Luxury Holidays website offers the cream of the crop in luxurious travel around the world. The new featured destinations include Thailand, Bali, Malaysia, Oman, St Lucia, Barbados, Antigua, Dubai, Egypt and Vietnam, and there are more to be added!
The new site has been launched in response to demand from Simply Luxury Holidays' existing passengers, who were looking to travel to other areas of the world.
Paul Shipway, Business Development Manager at Simply Luxury Holidays, said "Over the years, many of our clients have booked with us on an annual basis, and have also booked a second holiday with an alternative agent or operator. Our new website will enable us to harness this customer loyalty to a much greater degree by offering a greater range of luxury holidays at great value for money. We have always been aware that whilst our passengers appreciated our experience and expertise in Africa and the Indian Ocean that our weakness was not having a wider product portfolio. We anticipate launching further destinations over the next few months including China, Vietnam tours, Cyprus and West Coast USA. We have already seen an upturn in bookings since we announced the new destinations, a considerable increase in social media activity and have needed to recruit to help meet this demand. We now have members of the team that have travelled extensively throughout South East Asia, The Caribbean and USA, so our clients will still receive the same level of service and expertise as always, but with a much greater choice."
The Simply Luxury Holidays' new website is easy to navigate for the discerning traveller who knows exactly where they want to take a trip, or for those just looking for some holiday inspiration. The enticing photography and captivating descriptions offer a great overview of their new destinations.
About Simply Luxury Holidays.
Simply Luxury Holidays is a trading division of Somak Travel Ltd and is based in central Oxfordshire offices. Somak are an award winning tour operator with over 40 years experience of organising holidays to East Africa and the Indian Ocean.
Simply Luxury Holidays is a member of ABTA; membership no. P0225
For latest offers visit the website http://www.simplyluxuryholidays.co.uk or call a travel consultant on 01235 436100