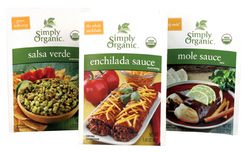 When prepared with fresh tomatillos, this salsa is an explosion of effervescent flavors.
Norway, IA (Vocus) March 29, 2010
Capitalizing on key market trends, Simply Organic is introducing three new southwest-style seasoning mixes – Enchilada Sauce, Mole Sauce and Salsa Verde. Each of the new mixes is vegan and has the USDA organic certification. Growth in the seasoning dry mix category has climbed seven percent during the most recent 52-week period, according to SpinsScan market research, and the three new organic mixes will tap into that niche segment.
Simply Organic's Enchilada Sauce Seasoning mix is blended with garlic, paprika, cumin, and roasted red chilies. "Our combination of spices provides optimal flavors without the heat that can drown out a chili's flavor," says Kory Kazimour, Simply Organic Senior Brand Manager.
Simply Organic's Mole Sauce mix gives the home cook access to the complex spice laden flavors found in mole sauce. "Our mole sauce pairs the fruity flavor of dried chilies with Fair Trade Certified™ Dutch cocoa, cumin, cinnamon, and oregano," adds Kazimour.
Simply Organic's Salsa Verde Seasoning mix contains organic bell peppers, cilantro, jalapeno, and lime to contribute contrasting elements to our Verde. "When prepared with fresh tomatillos, this salsa is an explosion of effervescent flavors," quips Kazimour.
The realities of today's economic downturn have raised awareness levels for people that want to save money. According to a recent study by the Organic Trade Association, 67% of families have cut back spending for dining out and 63% have increased their ingredient purchases for home-cooked meals. "Even when the new mixes are made with organic ingredients, the average cost per serving is less than 40 cents," adds Kazimour.
Kazimour notes the new Simply Organic seasoning mixes are free of hydrolyzed vegetable protein, modified food starch, hydrogenated oils, and genetically engineered ingredients. In addition to their USDA organic certification, each mix is Kosher certified and vegan, too. With a 24-month shelf life, consumers can conveniently store the seasoning mixes in the cupboard for future use.
Inexpensively priced at $1.39, each mix can be used in a variety of ways. Recipe suggestions are provided on each package, as well as on the Simply Organic website. The new flavors complement the other Simply Organic Southwest seasoning mixes, including Southwest Taco, Fajita, Fish Taco, and Spicy Taco mix.
The new Simply Organic Southwest seasoning mixes can be found in natural and organic retailers or consumers can purchase them online at http://www.simplyorganicfoods.com.
Note to editors: Product samples and photos are available upon request.
Simply Organic®
Simply Organic is an all-organic brand from Frontier Natural Products Co-op, offering an extensive and growing selection of certified organic spices, seasonings, baking flavors and mixes while supporting organic agriculture around the globe. By providing the best available organic seasonings and donating one percent of sales to organic agriculture and education, Simply Organic genuinely offers "Simply Healthy Living. Simply Great Taste." Find out more about Simply Organic at http://www.simplyorganicfoods.com.
Frontier Natural Products Co-op™
Founded in 1976 and based in Norway, Iowa, Frontier Natural Products Co-op™ offers a full line of natural and organic products under the Frontier, Simply Organic®, Aura Cacia® and Aura Cacia Organics® brands. Products include culinary herbs, spices and baking flavors; bulk herbs and spices; and natural and organic aromatherapy products. Frontier's goal is to provide consumers with the highest-quality organic and natural products while supporting and promoting environmental and social responsibility. For more information, visit Frontier's website at http://www.frontiercoop.com.
###