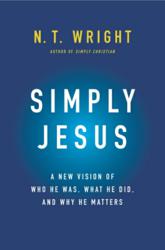 "Tom Wright is, as always, brilliant at distilling immense scholarship into vivid, clear and accessible form. This book is yet another of his great gifts to the worldwide church."
— Rowan Williams, Archbishop of Canterbury
San Francisco, CA (PRWEB) October 25, 2011
Calling on a lifetime of study of Jesus and the New Testament, leading scholar and bishop N.T. Wright offers a new perspective into this historical figure 2000 years after his death. In his new book Simply Jesus: A New Vision of Who He Was, What He Did, and Why He Matters(HarperOne; November 2011; $24.99; hardcover), Wright makes the startling claim that Jesus's story has been mistold and misunderstood, even by those who think they are Jesus's most ardent defenders.
For centuries, Christians have hidden behind other questions and avoided the huge, world-shaking challenge of Jesus's central claim and achievement. As a result, the kingdom of God has been reduced to private piety, the victory of the cross to comfort for the conscience, and Easter to a happy, escapist ending after a sad, dark tale. Piety, conscience, and ultimate happiness are important, but not nearly as important as Jesus himself, asserts Wright.
By deftly getting inside the Gospels and exploring Jesus's public career, his accomplishments, his death, resurrection and ascension, and the meaning of those events, Wright discovers a Jesus who is larger, more disturbing, and more urgent than we ever imagined.
At the heart of Wright's inquiry lies a vital interest in the way in which Jesus and the struggle to follow him might make a difference in people's lives and communities today. In fact, these questions about Jesus remain hugely important in every area—not only our personal lives and our religion, but also in political life and human endeavors such as worldview, culture, justice, beauty, ecology, friendship, scholarship, and sex.
And so Wright challenges the faith of Christians to ponder what "following Jesus" might entail and how we can know if we are on the right track, which helps us find the way to Jesus as he really was, and to find the way through Jesus both to God himself and to a life in which "following Jesus" makes sense.
ABOUT THE AUTHOR
N.T. WRIGHT is the former Bishop of Durham in the Church of England and one of the world's leading Bible scholars. He is now serving as the Chair of New Testament and Early Christianity at University of St. Andrews's School of Divinity. For twenty years he taught New Testament studies at Cambridge, McGill and Oxford Universities, and he has been featured on ABC News, Dateline, The Colbert Report, and Fresh Air. Wright is the award-winning author of After You Believe, Surprised by Hope, Simply Christian, The Challenge of Jesus, The Meaning of Jesus (co-authored with Marcus Borg), as well as the much heralded series Christian Origins and the Question of God.
ADVANCE PRAISE FOR SIMPLY JESUS
"Tom Wright is, as always, brilliant at distilling immense scholarship into vivid, clear and accessible form. This book is yet another of his great gifts to the worldwide church."
— Rowan Williams, Archbishop of Canterbury
"No one living today is writing more thoughtfully and compellingly about Christian theology than N.T. Wright. With Simply Jesus, he takes readers on an illuminating intellectual expedition to recover the Christian Messiah. If you have not read Wright, start now, and start with this book."
— Jon Meacham, author of American Lion: Andrew Jackson in the White House
Tom Wright has a fresh way of presenting the story of Jesus, the one and only Savior and Lord of the four canonical Gospels. This book retrieves Jesus from the margins of contemporary ideologies and places him once again at the heart of biblical faith. A compelling read!
— Timothy George, founding dean of Beeson Divinity School of Samford University, general editor of the Reformation Commentary on Scripture
SIMPLY JESUS
A New Vision of Who He Was, What He Did, and Why He Matters
By N.T. Wright
HarperOne, and Imprint of HarperCollinsPublishers
November 2011│Hardcover│$24.99│ISBN: 978-0-06-208439-2
###