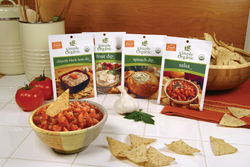 In contrast, our new Simply Organic Salsa Mix allows consumers to prepare truly fresh salsa quickly and easily
Norway, Iowa (Vocus) March 3, 2009
Responding to the growing demand for snacks that incorporate more fresh fruits and vegetables and are flavorful, Simply Organic®, the all-organic brand of spices and seasonings is introducing four new organic dip mixes that bring ethnic flavor fusions to appetizers. Their unique flavors can also be used to enhance side dishes and main entrées - even novice cooks can easily incorporate them into meal preparation using Simply Organic's recipe suggestions.
All four mixes require only one or two added ingredients and are easily prepared in five minutes or less. The new flavors - Chipotle Black Bean, Fruit Dip, Salsa and Spinach - can all be made in advance but should be refrigerated for 30 minutes before consumption.
The new flavors were developed with emerging taste trends in mind. "Today's consumer is intrigued by unique flavor combinations. Simply Organic is using its herb and spice expertise to bring distinctive flavors to snacks and meals with these easy-to-prepare mixes," says Kory Kazimour, Simply Organic Brand Manager.
Inspired by the enduring popularity of Mexican food, Simply Organic Chipotle Dip Mix combines wholesome black beans with the robust spiciness of red chilies, chipotle pepper and cayenne to create a dip that will jumpstart any fiesta.
The new Fruit Dip Mix takes a cue from the health trend of eating more fruits. Pairing favorite fruits with Simply Organic Fruit Dip Mix offers fruit lovers a sweet, creamy richness that adds fun and flavor. "While other fruit mixes are pre-made, Simply Organic Fruit Dip Mix is preservative-free," says Kazimour.
Most salsa in jars has been cooked, and vinegar has been added to increase shelf life. "In contrast, our new Simply Organic Salsa Mix allows consumers to prepare truly fresh salsa quickly and easily," notes Kazimour. "And its classic combination of cilantro, bell peppers, jalapenos, cumin and cayenne lives up to the true definition of salsa."
Spinach dip sales rank only behind French Onion and Ranch. "Our Simply Organic Spinach Dip has a creamy, mouth-watering flavor that makes it really stand out compared to other spinach dips," says Kazimour. "And spinach is a good source of minerals and vitamins, niacin, and selenium," she adds.
Kazimour notes the new Simply Organic dip mixes are also certified kosher, and are vegan/vegetarian -- and they are free of hydrolyzed vegetable protein, modified food starch, hydrogenated oils, and genetically engineered ingredients. With a two year shelf-life, the dip mixes can be conveniently stored in the cupboard for future use.
Inexpensively priced at $1.69 per packet, these mixes can be used in a variety of ways. Recipe suggestions are provided on each package, as well as on the Simply Organic website. The new flavors complement other Simply Organic Dip Mixes, such as the popular French onion, ranch, and guacamole dip mixes. All products display the USDA organic logo.
Most natural and organic retailers will have them in their stores in the coming months. Initially, the new dip mixes will be available on http://www.simplyorganicfoods.com or by calling toll-free at 1-800-669-3275.
Note to editors: Product samples and photos are available upon request.
Simply Organic®
Simply Organic®, an all-organic brand from Frontier Natural Products Co-op™, offers an extensive and growing selection of certified organic spices, seasonings, baking flavors and mixes while supporting organic agriculture around the globe. By providing the best available organic seasonings and donating one percent of sales to organic agriculture and education, Simply Organic genuinely offers "Simply Healthy Living. Simply Great Taste." Find out more about Simply Organic at http://www.simplyorganicfoods.com.
Frontier Natural Products Co-op™
Founded in 1976 and based in Norway, Iowa, Frontier Natural Products Co-op™ offers a full line of natural and organic products under the Frontier, Simply Organic®, Aura Cacia® and Aura Cacia Organics® brands. Products include culinary herbs, spices and baking flavors; bulk herbs and spices; and natural and organic aromatherapy products. Frontier's goal is to provide consumers with the highest-quality organic and natural products while supporting and promoting environmental and social responsibility. For more information, visit Frontier's website at http://www.frontiercoop.com.
Media Contact:
Steve Krusie
319-227-7996 ext. 1359
# # #