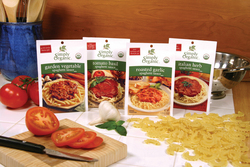 Numerous studies have been published demonstrating that those who eat a Mediterranean diet experience a notably lower incidence of chronic diseases and higher life-expectancy rates
Norway, Iowa (Vocus) March 3, 2009
Simply Organic, the all-organic brand of spices and seasonings, is introducing four new organic spaghetti sauce mixes that fit in with a Mediterranean diet and make it easy to enjoy authentic, full-flavored regional Italian flavors without starting from scratch.
The new mixes are convenient, requiring only one added ingredient in addition to water -- and preparation times are five minutes or less. Each of the new flavors - Garden Vegetable, Italian Herb, Roasted Garlic and Tomato Basil - were created with both modern health trends and traditional flavors in mind.
"Numerous studies have been published demonstrating that those who eat a Mediterranean diet experience a notably lower incidence of chronic diseases and higher life-expectancy rates," says Kory Kazimour, Simply Organic Senior Brand Manager.
Kazimour notes that Simply Organic is committed to providing delicious and healthful meal options that can be prepared quickly and inexpensively to help meet the needs of the growing number of people electing to economize by eating at home rather than dining out. "When you combine Simply Organic sauces served with organic pasta, on average, the cost is less than 65 cents per serving," she adds.
Simply Organic Garden Vegetable Spaghetti Sauce Mix provides vegetable lovers with a bountiful garden harvest of carrots, mushrooms, spinach and bell peppers that pairs best with diced tomatoes. A pinch of sea salt, basil and oregano rounds out this full-flavored sauce.
Simply Organic Italian Herb Spaghetti Sauce Mix pairs with tomato paste to bring hearty Italian flavor to your pasta. A touch of thyme, fennel seed and anise seed spice up the sauce, creating a distinctly Tuscan flavor.
Simply Organic Tomato Basil Spaghetti Sauce Mix is best served by candlelight, but it adds pizzazz to your pasta any time. Garlic, oregano, and black pepper keep this sauce from being anywhere near subtle.
Simply Organic Roasted Garlic Spaghetti Sauce Mix is a traditional family favorite chock-full of classics like garlic and onion, and Mediterranean seasonings such as basil and oregano. Especially complementary to diced tomatoes, this sauce gets a nice kick from organic black pepper.
The new Simply Organic dry mixes are the first comprehensive line of organic spaghetti sauce mixes available, and they are also certified kosher and are vegan/vegetarian. They are free of hydrolyzed vegetable protein, modified food starch, hydrogenated oils, and genetically engineered ingredients. With a two year shelf-life, the spaghetti sauce mixes can be conveniently stored in the cupboard for future use.
An added bonus -- the spaghetti sauce mixes can be used in a variety of ways. Recipe suggestions are provided on the Simply Organic website. The new flavors complement other Simply Organic Pasta Sauce Mixes, such as the popular Alfredo and Sweet Basil Pesto sauce mixes. All products display the USDA organic logo.
The new mixes are inexpensively priced at $1.49 per packet and will be available soon on natural and organic store shelves. You can order them now on-line at http://www.simplyorganicfoods.com or call toll-free at 1-800-669-3275.
Note to editors: Product samples and photos are available upon request.
Simply Organic®
Simply Organic®, an all-organic brand from Frontier Natural Products Co-op™, offers an extensive and growing selection of certified organic spices, seasonings, baking flavors and mixes while supporting organic agriculture around the globe. By providing the best available organic seasonings and donating one percent of sales to organic agriculture and education, Simply Organic genuinely offers "Simply Healthy Living. Simply Great Taste." Find out more about Simply Organic at http://www.simplyorganicfoods.com.
Frontier Natural Products Co-op™
Founded in 1976 and based in Norway, Iowa, Frontier Natural Products Co-op™ offers a full line of natural and organic products under the Frontier, Simply Organic®, Aura Cacia® and Aura Cacia Organics® brands. Products include culinary herbs, spices and baking flavors; bulk herbs and spices; and natural and organic aromatherapy products. Frontier's goal is to provide consumers with the highest-quality organic and natural products while supporting and promoting social and environmental responsibility. For more information, visit Frontier's website at http://www.frontiercoop.com.
Media Contact:
Steve Krusie
319-227-7996 ext. 1359
# # #