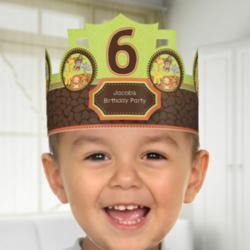 Great quality products - they were a huge hit at my child's first birthday party. I can't believe how many comments I received!
~Juliann S.
La Jolla, CA

Menomonie, WI (PRWEB) September 08, 2011
Big Dot of Happiness, LLC, an event party company, is proud to announce a wide selection of impressive birthday party supplies and decorations now available on BigDotOfHappiness.com. By providing birthday party items that are unavailable anywhere else, BigDotOfHappiness.com is able to help make everyday Hostess Heroes out of everyday people.
"Parents want to 'wow' their guests while children want a party that isn't like all the others so we saw an opportunity to help make that happen," says Sherri Yukel, founder, general manager and mom of four. "We help our customers easily throw an impressive birthday party that is everything their child has dreamed of." By creating birthday party supplies with unique shapes and designs, BigDotOfHappiness.com's original items, such as tableware, birthday invitations and birthday party hats, are distinctly different than any retail party store.
Big Dot of Happiness, LLC, has also expanded their online presence by adding SimplyBirthdayStuff.com, a newly improved birthday party supply store, to their list of Big Dot Shops. Lisa T., a birthday party Hostess Hero, says "I love shopping at SimplyBirthdayStuff.com. They went the extra step and helped me save money when they saw I had two different orders and just added them together as one order/shipment. I really appreciated that. What online store would go the extra step to save YOU money and to help you out? I'm definitely a customer for life! Thanks."
BigDotOfHappiness.com and SimplyBirthdayStuff.com continually look toward the future by staying on top of current trends and by constantly adding new themes to their birthday party selection. "The customer's needs are always changing," says Yukel, "if we don't change with them, we will be just another store. By expanding our focus and offering the best of the best, we are able to create an online presence unmatched by others."
About Big Dot of Happiness, LLC
Big Dot of Happiness, LLC, is an event party company and the originator of various games, invitations and themed party supply products called "Big Dot Originals." With personalized invitations, impressive party favors and unique party decorations, Big Dot of Happiness, LLC, makes everyday parties into extraordinary events. "We create remarkable smiles by embracing a remarkable culture."
Find Big Dot of Happiness on Facebook for inspiration and exclusive deals just for fans.
Contact:
PR Coordinator
Big Dot of Happiness, LLC
1.800.274.4282
http://www.bigdotofhappiness.com
###