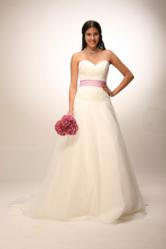 Simply Bridal puts wedding products, services and resources into the hands of users worldwide, while offering fresh and original bridal content.
Los Angeles, CA (PRWEB) July 15, 2011
SIMPLY BRIDAL, a new bridal enterprise, launches today to offer an online experience that simplifies the entire wedding process for brides-to-be around the globe.
Simply Bridal is a premier one-stop online hub for the informed, practical and creative consumer. Along with learning about products, resources and services, the consumer receives organized information on trends, tips, ideas, recommendations, news and reviews. Fresh editorial content—such as articles, style guides and a blog— updated daily.
The company also offers its own bridal products. The first product launch is a collection of more than 80 original, handmade wedding gowns—all 100 percent custom-made by expert seamstresses. The website starts accepting orders for wedding dresses today.
Brides-to-be can now shop with confidence with the launch of Simply Bridal. The online store portion promises a money back guarantee—providing consumers with a worry-free shopping experience and a chance to find the perfect dress without the extravagant price. Each dress, which is tailored to fit the bride's specific measurements, is made with luxurious fabrics that include silk, satin, tulle, organza, lace, chiffon or taffeta. The silhouettes in the Simply Bridal collection include A-Line, Ball Gown, Slim Line and Trumpet styles; shoulder styles range from strapless and off-shoulder, to shoulder straps and halter; necklines offered are sweetheart, dipped, plunging and scalloped styles. Each wedding dress promises superior quality, style and glamour.
Simply Bridal remains on the pulse of the latest bridal trends and runway sensations, allowing the company to offer a range in design options—from daring, fashion-forward styles to timeless bridal classics.
Every bride deserves to wear the dress of her dreams—a wedding gown that possesses style, glamour and high craftsmanship. But budget-friendly wedding dresses are hard to find. Not anymore. At Simply Bridal, the dresses are beautifully designed, tailored for the modern bride, made only with the finest fabrics—and importantly: affordable. This is made possible through a distinctive method of manufacturing that cuts costs without cutting back on precious fabrics and beadwork. Think of Simply Bridal as a mom-and-pop enterprise around the corner, but with the professionalism and quality of an international brand. The wedding dress collection that is both superior and inexpensive has arrived.
Simply Bridal offers both a superior dress collection and an active online community. Today's stylish yet financially practical bride can bookmark SimplyBridal.com and visit it frequently for new editorial content on wedding related topics such as bridal fashion, catering, venues, photography, reception ideas, trends and more. By merging its original bridal dress collection with content on all things bridal, Simply Bridal promises an online experience that puts the best products and services directly into the hands of users worldwide.
Browse our collection at http://www.simplybridal.com, or contact the company at press(at)simplybridal(dot)com or (213) 375-5354
About Simply Bridal:
Simply Bridal is an online retailer that simplifies the entire bridal process by putting the best wedding products and services directly into the hands of our users worldwide. We accomplish this mission by offering a selection of quality bridal products; providing an excellent, worry-free purchase experience; providing the best set of bridal resources and content; and offering beautiful, superior-quality wedding dresses that won't break the budget. Our service grew from the desire to offer brides-to-be with elegant, luxurious and high-quality gowns that use only the finest fabrics—minus the monumental cost and corporate red tape. Every bride deserves the dress of her dreams. At Simply Bridal, she can find it. For more information, visit SimplyBridal.com.
###