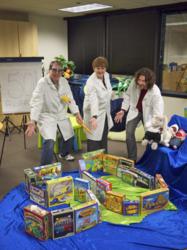 Building smarter kids and stronger families through the amazing power of PLAY!
Bellevue, Washington (PRWEB) December 04, 2012
SimplyFun LLC, the learning and activity company based in Bellevue, earned its 50th product award this month making it the largest award winning year since the company's re-launch in 2010. By repositioning the company towards family based learning and connecting, SimplyFun has helped thousands of kids and parents enhance their academic development and expand their family bonding experiences. President and CEO, Patty Pearcy shares that "our home office team and all of our Playologists across the United States are deeply honored by the recognition from these prestigious groups celebrating the quality of our games."
Notable awards include:

Oppenheim Toy Portfolio Platinum Award (2012)
Winner of a Parents' Choice Silver Honor and Recommended Awards
Parent Tested Parent Approved
Creative Child Magazine Game of the Year, Preferred Choice, Seal of Excellence Awards
Mom's Choice Awards
Great Dad Award
Mr. Dad Award
Major Fun Award
Mom's Best Award
Tillywig Top Fun, Sterling Fun, Brain Child Award
Parent-Test Parent-Approved Awards
Funagain Games Best Abstract Strategy, Best Family Award
View a complete list of all our Award-Winning Games that fit many different ages and skill levels from 3 years to 103!
SimplyFun believes that play is the best way for children to learn. And best of all, the games are designed to fit into a family's hectic life; most can be played in just 30 minutes.
SimplyFun products can help move a child forward academically, socially and emotionally; skills that are essential for their development. From early counting and reading to more advanced spatial reasoning and critical thinking, games are a way to build those skills in a fun and relaxing way that the whole family can enjoy.
Play keeps families connected, bringing them together for moments of joy and laughter. What better way to spend an hour than having everyone gathered around the game table creating memories that last a lifetime.
Whether it is building critical learning skills or simply helping a family reconnect, SimplyFun believes that you are never too young or too old to play!
Visit SimplyFun.com for more information, a schedule of events, or register to become a Playologist and host your own game nights. You can also find more information on our Facebook page and our Twitter page.
MEDIA CONTACTS
Charles Koh
SimplyFun LLC
Charles(at)simplyfun(dot)com