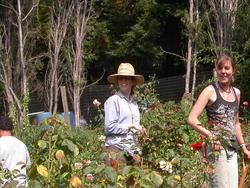 Each time you buy a Simply Organic spice, seasoning or mix, you make a small contribution -- that when combined with many others -- provides significant support to organizations and projects that research, develop, teach and promote organic agriculture
Norway, Iowa (Vocus) December 3, 2009
Simply Organic® has announced the establishment of a scholarship award in perpetuity for the Apprenticeship in Ecological Horticulture at the University of California, Santa Cruz. Simply Organic and Frontier Natural Products Co-op™ have made a combined contribution of $130,000 to the UCSC Center for Agroecology and Sustainable Food Systems.
"This is the premiere sustainable and organic training program in the U.S. During my visit in August, I was impressed with the quality of the program – and even more so with the apprentices enrolled in the program," says Kathy Larson, Vice President of Sustainability at Frontier. "Establishing this scholarship empowers a new generation of sustainable agricultural leaders, who otherwise might not have the opportunity to participate in advanced training and contribute to the organic community."
Each year, one apprentice will receive tuition assistance to learn better organic farming techniques, develop and evaluate new ideas to tackle issues of inequality in the food system, and integrate social and natural science research, academic and experiential education, and public service to transform the food system. The Frontier Foundation™ donated $60,000, while the remaining $70,000 came from the Simply Organic One Percent Fund (SO1%), which is generated by one percent of sales on all Simply Organic products.
SO1% supports organizations and events that further education, training and growth in the organic industry. "Each time you buy a Simply Organic spice, seasoning or mix, you make a small contribution -- that when combined with many others -- provides significant support to organizations and projects that research, develop, teach and promote organic agriculture," says Kory Kazimour, Simply Organic Senior Brand Manager.
The Apprenticeship at the Center for Agroecology and Sustainable Food Systems
The seeds of this program were planted more than 40 years ago in Santa Cruz, California. There, an innovative English horticulturist named Alan Chadwick started the Student Garden Project and the 25-acre farm that together became the UC Santa Cruz Farm and Garden -- and the site of a unique, hands-on training program. Chadwick's apprentices helped pioneer the organic food movement in California and then across the country, spreading the word about how food could be grown using techniques that respected nature and conserved natural resources while yielding sustained, bountiful harvests.
Over the years the organic training was formalized into a six-month full-time apprenticeship that attracts participants from across the U.S. and around the world. Interest in the program is now at an all-time high, with record 187 applications received this fall for the 39 positions in the 2010 Apprenticeship.
Today, more than 1,300 apprentices have been trained in the organic fields, orchards and greenhouses at UC Santa Cruz, learning not only how to raise food and flowers, but how to make the food system itself more sustainable by addressing issues of social justice. They are organic farmers, market gardeners, urban agriculturalists, school garden teachers and others -- all working to promote local, healthy food in communities around the country.
Simply Organic®
Simply Organic®, an all-organic brand from Frontier Natural Products Co-op™, offers an extensive and growing selection of certified organic spices, seasonings, baking flavors and mixes while supporting organic agriculture around the globe. By providing the best available organic seasonings and donating one percent of sales to organic agriculture and education, Simply Organic genuinely offers "Simply Healthy Living. Simply Great Taste." Find out more about Simply Organic at http://www.simplyorganicfoods.com.
Frontier Natural Products Co-op™
Founded in 1976 and based in Norway, Iowa, Frontier Natural Products Co-op™ offers a full line of natural and organic products under the Frontier, Simply Organic®, Aura Cacia® and Aura Cacia Organics® brands. Products include culinary herbs, spices and baking flavors; bulk herbs and spices; and natural and organic aromatherapy products. Frontier's goal is to provide consumers with the highest-quality organic and natural products while supporting and promoting environmental and social responsibility. For more information, visit Frontier's website at http://www.frontiercoop.com.
###