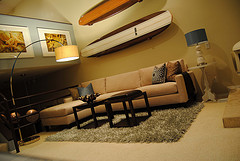 Design-in-a-Box by Simply Stunning Spaces helps Homeowners Nationwide transform their homes into simply stunning spaces with a personalized step-by-step design plan- easy enough for anyone to follow! A great budget-friendly option for the avid DIYer.
San Diego, CA (PRWEB) October 13, 2011
Simply Stunning Spaces, a local Interior Design firm in San Diego, has been selected by Living Social to be the featured deal on AmazonLocal. Interested San Diego County Homeowners- or anyone looking for a unique gift idea can take advantage of this discount, receiving a two-hour in-home interior design consultation, normally priced at $249- for only $99.
Darcy Kempton, Interior Designer, ASID Allied Member and Owner of Simply Stunning Spaces, will provide San Diego homeowners with home decorating and interior design ideas to revamp and refresh their homes. Each consultation begins with a preliminary life-style analysis, followed by a detailed walk-through of your home including suggestions and creative ideas regarding: space planning, furniture selections, color consultation, paint color placement, room styling, shopping tips and much more to help update and improve a home's look and feel.
Homes should be a refuge, a place where family and friends gather to spend quality time together. A place where entertaining is encouraged and relaxation is enhanced. It is where people unwind at the end of a long day. For many, updating their home's décor continually gets put on the back burner, leaving homeowners feeling unsettled. Many people simply find the task of redesigning or re-decorating far too daunting. Simply Stunning Spaces takes the stress out of coming up with that perfect design for living rooms, bedrooms, home offices, or any room in the house. They promote high style with reasonable prices, making sure decorating dollars are spent wisely by their clients.
Simply Stunning Spaces encourages AmazonLocal subscribers to purchase several as wedding gifts for newlyweds, house warming gifts to be offered from Realtors, or for anyone who could use [a truly unique gift idea.
About Simply Stunning Spaces
Simply Stunning Spaces is an interior design firm based in San Diego, California and serves residences and businesses nationwide. Darcy Kempton, Interior Designer & Founder of Simply Stunning Spaces Inc. is most recognized for her simple, rational approach to helping others design and decorate homes and offices that are perfectly catered to their individual life-style. Darcy's designs incorporate a level of detail, understanding and appreciation for the unique qualities that make up each and every client. "By listening carefully to my Clients' requests and conversing with them on a personal level, I'm able to fully understand their lifestyle needs, design preferences and filter that information in a way that crafts a space uniquely their own, with a plan for implementing that fits their budget, timeline and preferred involvement level". Darcy and her team's e-design program, "Design-in-a-Box by Simply Stunning Spaces" serves clients nationwide easily and affordably. No matter where you are or what your budget is you too can have a home that's Simply Stunning! For more information call 1-888-998-STUNNING (7886) or visit http://www.simplystunningspaces.net.
About AmazonLocal
AmazonLocal, launched in 2011, is a new local deals website offering savings of up to 75 percent off products and services at restaurants, spas, fun events and more. AmazonLocal is now available in 44 locations, including: San Diego, New York City, Chicago, Los Angeles, San Francisco, Miami and Seattle, across 15 states (Alabama, California, Florida, Idaho, Illinois, North Carolina, New York, Texas, Virginia and Washington State). Customers across the country will find deals sourced through our strategic relationship with LivingSocial, as well as directly by AmazonLocal in select markets. Anyone can go to AmazonLocal.com and sign up to be notified when AmazonLocal is available in their area. Amazon Local is operated by Amazon Local LLC.
###