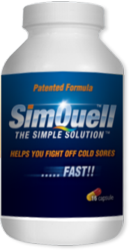 "SimQuell saved my vacation. The tingling went away quickly and only a little crusting. No blisters. Worked great."

K.R.
(PRWEB) September 24, 2012
DAIG Pharmaceuticals, makers of cold sore treatment SimQuell™, proudly announces that after 13 years of clinical research, the United States Patent and Trade Office has officially awarded patent number 8,247,006 for its invention "Composition and Method of Treating Lipid Encapsulated Virus Infections."
To celebrate the award of its patent and launch of its new cold sore treatment website http://www.SimQuell.com, DAIG Pharmaceuticals is offering free shipping to all customers that place an order for two bottles or more through its website.
SimQuell™ is a powerful, all-natural immune support supplement that is not only able to promote the fast healing of current cold sore outbreaks, it helps your immune system drastically reduce or even eliminate future recurrences. The cold sore treatment works using a multi-factorial approach to attack the herpes simplex virus through three different mechanisms.
SimQuell™ is a clinically proven immune support formula and cold sore treatment that combines the following 3 mechanisms to stop the herpes virus in its tracks:

A competitive inhibitor to stop the virus from getting the nutrient it needs to replicate
A potent anti-oxidant that opens the virus' protective capsule to allow your immune system to attack it
A potent immune system enhancer and all natural anti-viral
All three ingredients work synergistically to produce a highly effective alternative cold sore treatment to side-effect ridden prescription medications. SimQuell™ cold sore immune support supplement is formulated with a special blend of ingredients that were carefully selected by a team of physician-scientists based upon extensive clinical research and strong scientific study. When combined, the key ingredients used to formulate SimQuell™ cold sore treatment have demonstrated synergistic and potent anti-viral properties against lipid encapsulated viruses such as HSV types I and II. This revolutionary formula has been clinically proven to successfully boost a person's immune system and help to significantly reduce the full range of cold sore symptoms.
DAIG Pharmaceuticals is so confident in the efficacy of its SimQuell™ immune support supplement that it is backing up all purchases with a 30-day 100% money-back guarantee.
To learn more about SimQuell™ immune support supplement and cold sore treatment, to read our research studies, or to place a private and discreet order, please visit SimQuell.com.
# # #