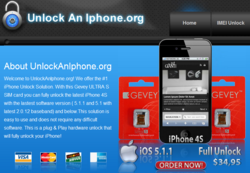 Miami, FL (PRWEB) October 04, 2012
Unlocking iPhone iOS 4.0, 4.1, 4.2, and 4.3 for iPhone 3G/3GS/4 has become the a necessity today for those who want to shift networks. Since the iPhone 5 was released, iPhone 3G/3GS/4 users are looking to sell or return their older iPhone models to get the latest one. More and more users started to realize the benefits of unlocking their iPhone via IMEI. Most network providers choose to network lock their phones because these phones are offered for use of their network exclusively for a predefined period of time. More information about unlocking iPhone iOS 4.x can be found at en.wikipedia.org/wiki/IPhone#SIM_unlocking. One of the respectable IMEI unlock iPhone iOS 4.x service is now available and can be found at unlockaniphone.org/IMEIunlock.html.
Those behind the Unlockaniphone services are avid gadgets professionals that spent years of their lives tweeking, fixing, repairing and unlocking Apple devices. They know the best ways to unlock these models because they have unlocked a lot of iPhone 3G/3Gs/4/4S/5.
IMEI unlocking is good compared to other standard unlocking methods because it is a permanent unlock. Unlockaniphone.org offers two types of unlocking services: Gevey ULTRA S SIM card unlock and IMEI unlock. Both of them are compatible with all basebands, including iOS 4.x. Users who choose to unlock their iPhones using the IMEI unlock service can greatly increase the value of their phone, because a factory unlocked phone is sold for about $100 more on the market.
Here is a list of iPhone iOS 4.x versions for iPhone 3G/3GS/4:

4.0
4.0.1
4.0.2
4.1
4.2
4.2.1
4.2.5
4.2.6
4.2.7
4.2.8
4.2.9
4.2.10
4.3
4.3.1
4.3.2
4.3.3
4.3.4
4.3.5
Users are eager to use their iPhones on several networks. In order to do that, an iPhone IMEI Unlock Service is needed. It also guarantees no loss of features or functionality, and allows them to update their iPhone hassle-free. On top of all, the unlocked iPhone iOS 4.x can be used on any GSM Network worldwide.
For more information about iPhone 4.x, go to http://www.unlockaniphone.org/112-2-3-2.html.