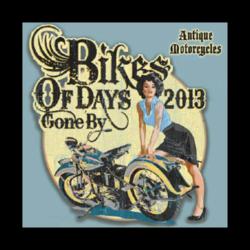 MELBOURNE, Va. (PRWEB) April 17, 2013
Motorcycle enthusiasts throughout the state of Florida convened on Matt's Casbah on Saturday, enjoying great food and good times. This was not just a random gathering, however, but a motorcycle show of a very specific sort.
The event, Bikes of Days Gone By, featured numerous entries from throughout Florida, bringing the best in classic motorcycles. There was only one restriction on entry: the motorcycle had to have been dated 1978 or earlier. Weather reports on Friday night threatened rain for the event, but the downpour held off until Sunday, leaving a perfect day for the event.
During the event, Sinclair Law, a motorcycle accident attorney practice in Melbourne, handed out koozies and cups to the numerous spectators and entrants. Additionally, the personal injury law firm held a free giveaway of a new television. "We handed out at least a thousand koozies and a thousand cups, and received over 250 entries for our giveaway," says Andrew Godfrey of Sinclair Law. "It was a hugely successful event. The area was packed at times, and the food tents Matt's Casbah set up were each consistently busy throughout the day."
A portion of the proceeds from the event benefited the Candlelighters of Brevard, an organization committed to the families of children suffering from cancer. The organization provides emotional support and financial assistance to families of children diagnosed with cancer. "We want to help these children and families as they face an incredibly tough time," says Sinclair. "The Candlelighters of Brevard do an outstanding job of providing for these families' emotional and financial needs, and that's why we're donating the proceeds of the event to them."
Pictures of the event are available at the Bikes of Days Gone By Facebook page, as well as on Sinclair Law's Facebook page.
About Sinclair Law
With over 25 years of personal injury and wrongful death legal experience, Brad Sinclair, an avid motorcycle enthusiast, has been providing his legal expertise to victims in personal injury cases all throughout Brevard County, including the areas of Palm Bay, Cocoa Beach, and Titusville. Sinclair Law specializes in personal injury cases involving motorcycle accidents, automotive accidents, and truck accidents, and staffs former insurance claims adjustors to help with each case. Visit SinclairLaw.com today for more information.