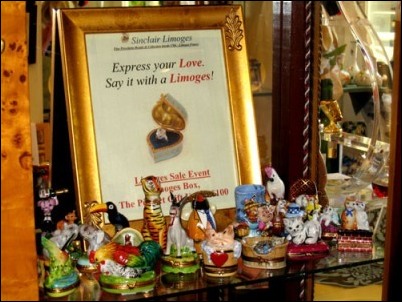 Palm Beach, FL (PRWEB) November 16, 2006
Sinclair Limoges Tradition to celebrate "Christmas" in Palm Beach Florida starts exclusively this week with the exclusive Presentation of The Sinclair Limoges Christmas & Holiday Collection 2006 with thousands of Hand Painted Porcelain boxes featured in 2 very exclusive fine stores @ City Place & Worth Avenue.
Lauren Adams Antiques Gallery at City Place, 477 South Rosemary Avenue, Palm Beach, Florida, & Sherry Frankel Melangerie at 256 Worth Avenue, Gucci Court Yard, Palm Beach, Florida.
Both stores feature exclusively the largest collection of Sinclair Limoges porcelain boxes ever presented in South Florida & the New Christmas Collection 2006 of Fine Limoges boxes.
Limoges Collectors from around the World, Visiting City Place & Worth Avenue in Palm Beach Florida this Winter & this Holiday Season, will be delighted to discover for the first time such incredible & Unique collection of thousands of fine Porcelain collectible boxes Directly from Limoges France, during Christmas & the Holidays.
For a limited time, Limoges collectors will get the very Best of Limoges boxes, many Limited edition Numbered Pieces at an incredible affordable price with thousands of Limoges Porcelain boxes at $99 each or under.
Authentic French Limoges porcelain boxes Collectibles and figurines are the perfect Gift for the Holiday or for your next Baby Shower. If you can't make it to Palm Beach, Florida, You can find those fabulous little chef d'oeuvres at the same price online with thousands of Limoges boxes collection at http://www.Sinclair-limoges.com or http://www.limogesboxclub.com.
Sinclair Limoges Collection of authentic Limoges boxes Limited Edition individually numbered are made of the finest quality Limoges porcelain directly from the heart of the city of Limoges France, following a Tradition of Quality & Excellence since 1764, each little Limoges boxes are individually hand made & hand painted. Sinclair Limoges porcelain boxes are authentic and hand painted Porcelain boxes made in Limoges France. They all come with a certificate of Authenticity a brief history of the Limoges porcelain boxes, in an individual White & Gold Gift box.
Sinclair Limoges offers the largest collection of hand painted Limited Edition Individually Numbered Limoges boxes imported directly from the city of Limoges France.
Since 1764, Royalties all over the World have appreciated Limoges Porcelain Boxes as a real treasures; Madame de Pompadour, Josephine Empress of France, Alexander Tsar of Russia are just few of prestigious past Limoges collectors! Limoges Porcelain Boxes were originally used to send love poems, engagement rings, and other special trinkets between lovers and friends. Sinclair Limoges boxes follow a Tradition of Quality & Excellence for more than 240 years. Sinclair Limoges Porcelain boxes are entirely made & decorated by hand in the Heart of the City of Limoges France. Limoges Porcelain boxes are symbol of Love, French Romanticism, Joy to celebrate the Holiday, Christmas, an Event in our Life, a Birthday, an Engagement, a Wedding, an Anniversary, Valentine, or to express feelings to our friends, family & Love. Sinclair Limoges box is more than just a Collectible; it's a way to express Love & to say it with a Limoges! With a Special French Touch, because every Limoges is meaningful.
Express Love, Say it With a Limoges! The entire collection of Sinclair Limoges can be found at http://www.Sinclair-Limoges.com or http://www.limogesboxclub.com.
Sinclair Limoges figurines are French gifts that are wonderful for anyone's collection. Limoges boxes are miniature porcelain figurines that are hand mounted with metal hinges. Limoges porcelain is a special kind of pottery made of the clay Kaolin, and pottery is clay hardened by heating. These Limoges boxes are all limited edition and hand-painted and the region they come from in Limoges France that is known for producing the finest porcelain in the world. Following a Tradition of Quality & Excellence, the creation of Limoges Porcelain is a laborious and time consuming process involving multiple firings and glazing. Limoges hinged boxes are fine hand crafted and hand painted hinged Limoges porcelain boxes that are created in many different subject matters such as Christmas, Holiday, Wedding, Ring box, animal figurines, figurines of Eiffel tower, London, Paris, and little heart boxes for Valentines Day etc.
Limoges boxes from http://www.Sinclair-Limoges.com or http://www.limogesboxclub.com are available in almost every theme you can imagine. Today, Limoges boxes are collected all over the World, but more than just a Collectible, each porcelain Limoges box carries a very personal meaningful message. They symbolize important positive moments in our life: Love, Passion, Celebration, Holidays... a Limoges box will give the joy of the most important days of our life, and a way to remember it for ever.
Come to celebrate "Christmas" at Lauren Adams Antique Gallery at City Place in Palm Beach, & at Sherry Frankel Melangerie at 256 Worth Avenue @ Gucci Courtyard in Palm Beach this Holiday season, you will be able to see the most incredible collection of hand painted Limoges Porcelain boxes from France ever feature in Florida and available at the Incredible unique price of $99 each.
Sinclair Limoges authentic limited editions Limoges porcelain boxes come with certificates of authenticity and special sealed Limoges gift box. Sinclair Limoges deal only in genuine French Limoges boxes made and decorated in Limoges, France. Limoges box is not a brand name or a single porcelain factory. Many studios operating within the Limoges area may mark their porcelains Limoges France. We deal with only the finest the region has to offer. Sinclair Limoges offers same day shipping. Visit us at http://www.Sinclair-Limoges.com or http://www.limogesboxclub.com to browse our Collection authentic Limoges boxes and our Collectors corner has wonderful discounted up to 50% off your purchase.
Sinclair Limoges Porcelain boxes are the perfect gift for the Holiday & Christmas. visit http://www.Sinclair-Limoges.com or http://www.limogesboxclub.com for all your needs of authentic Limoges boxes, discount Limoges Boxes, Christmas Limoges, Holiday Gift, Baby Shower Gift, Christmas Gift, Limoges trinket boxes, Limoges pill box, Limoges hinged boxes, Limoges heart boxes, Limoges dinnerware, Limoges jewelry chests Limoges figurine boxes and many more Limoges porcelain boxes.
For the Holidays, for Christmas, Sinclair Limoges make the Perfect Gift.
http://www.Sinclair-Limoges.com
http://www.Limogesboxclub.com
Media Contact: Hughes Longelin-Pingle
Customer Care: Lydia Longelin-Pingle
10760 Paris Street Hollywood FL 33026
Phone & fax: 1-954-450-0000
open Monday to Friday 9am to 6pm
# # #