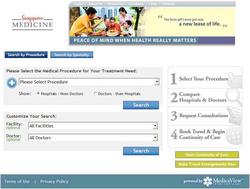 There is no question that North American patients will be very comfortable visiting Singapore's clean and modern city. The low incidence of crime, prevalent use of English and high level of service and hospitality will be very well received by them.
Singapore (PRWEB) April 6, 2009
The Singapore Tourism Board (STB) announced today the launch of the Singapore Destination Medicine (http://singapore.itravelmed.com ) site. In collaboration with MedicaView International, Inc., this site streamlines the tedious process of searching, comparing and selecting Singapore healthcare services online.
Targeting medical travelers particularly from North America, the site offers an invaluable resource for discerning travelers seeking high quality and affordable healthcare outside the US. According to John Linss, President and CEO of MedicaView International, the decision to tie up with STB to feature Singapore's healthcare was not a hard one to make.
"North American patients who have already traveled for healthcare to Singapore have discovered that high quality of care can be combined with affordable prices and the demand for such services is growing," he revealed.
The clean and user-friendly site features a simple form to select doctors or hospitals in Singapore, based on the required medical procedure. Users can call up accreditation information, doctors' credentials and even request for cost estimates at selected medical institutions with ease. The service is expected to be a boon to many US medical travelers.
Previously, medical travelers had to rely on word of mouth, information from books and magazines or Google searches under Medical Travel. There are also numerous "medical facilitators" around but Linss pointed out that they do not generally provide any search capability, pricing, or surgical complications, travel insurance or other business insurance coverage.
Notable extras on the site include a Continuity of Care program that can link stateside doctors with offshore surgeons to provide for electronic medical records to be stored in a secure collaborative environment where doctors from both sides can collaborate over the case. Surgical complications and travel insurance are also available to cover most eventualities related to travel and health care procedures. Finally, travel options can be accessed directly from the site.
Healthcare costs in the United States have reached untenable levels for both insured and uninsured alike. Typically, uninsured Americans do not have access to negotiated rates and deep discounts like those with insurance, and in many cases, these people are forced to choose between bankruptcy and pain.
As for those that do have insurance, the trend in high deductible plans and higher costs is contributing to higher out of pocket amounts for patients and dramatically increased costs for employers.
With easy access to Singapore healthcare, medical travelers stand to reduce their overall cost whether they are insured or not. On average, a US medical traveler to Singapore pays a mere third of what similar treatment would cost back home. With an estimated 6 million Americans expected to travel overseas by 2010, the introduction of this site is a timely one.
On his company's decision to promote Singapore's healthcare services, Linss replied, "There is no question that North American patients will be very comfortable visiting Singapore's clean and modern city. The low incidence of crime, prevalent use of English and high level of service and hospitality will be very well received by them."
Singapore Destination Medicine also provides for the syndication of Singapore healthcare services across other sites such as DestinationMed.com, Global Patient Services, and MedicaView.com, with additional sites to be announced soon.
About SingaporeMedicine (http://www.singaporemedicine.com ):
Launched in 2003, SingaporeMedicine is a multi-agency government-industry partnership committed to strengthening Singapore's position as Asia's leading medical hub and international health care destination. Led by the Ministry of Health of Singapore, SingaporeMedicine is supported by three government agencies: the Economic Development Board, which develops industry capabilities, the International Enterprise Singapore, which fosters regionalism by Singapore-based health care players, and the Singapore Tourism Board, which markets Singapore as a healthcare destination to inbound international patients and develops associated people-oriented services.
About MedicaView International, Inc:
MedicaView International (MVI) is a global organization that is at the forefront of the changing healthcare environment. Its Global Connect™ platform facilitates effective global and/or local online interaction and commerce between accredited healthcare providers, consumers and other healthcare related entities. This platform and support infrastructure provides significant flexibility that can be applied over a wide variety of tailored solutions.
###