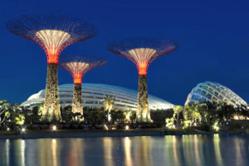 Finding the right hotel is complex and often, price is one of the many factors travelers assess before booking their accommodation. We believe BudgetHotels.sg will provide travelers with an innovative resource that will give them unprecedented confidence
Singapore (PRWEB) August 18, 2012
Singapore's tourism landscape has undergone a major transformation in recent years. International events such as the Singapore F1 Grand Prix, as well as the opening of new tourism offerings such as the Gardens by the Bay and the integrated resorts have cemented Singapore's position as a top tourist destination. Bolstered by a steady stream of visitors, hotel room rates in Singapore are increasing.
According to a recent report released by CBRE Hotels, Hong Kong had the highest average daily rate (ADR) at US$248. It is closely followed by Singapore (US$230) and Seoul (US$185).
Realising the importance of having a reliable website that brings together all information related to budget hotels, a new website - BudgetHotels.sg is launched to make Singapore trip a reality for travelers with limited budget looking for cheaper hotel accommodation.
The first-of-its-kind in Singapore and in Asia, BudgetHotels.sg not only provides a list of affordable hotels which are located within close proximity to MRT train stations, it also offers first-time visitors tips and suggestions to major sightseeing attractions and shopping malls in the city.
Although information and resources on affordable hotel accommodation are widely available, travelers are often overwhelmed at having to search through multiple online hotel booking websites. With BudgetHotels.sg, travelers can now access reliable information at their own convenience.
Danny Lee, an avid traveller who developed the website, said: "It is an opportune time to launch BudgetHotels.sg. Finding the right hotel is complex and often, price is one of the many factors travelers assess before booking their accommodation. We believe BudgetHotels.sg will provide travelers with an innovative resource that will give them unprecedented confidence in their booking decisions by fulfilling their hotel search needs."
Interestingly, the hotels listed on the website are located near MRT stations such as Bugis, Chinatown and Lavender. Travelers will be able to narrow their search for hotels by selecting their choice train station.
BudgetHotels.sg features an extensive range of hotels from one-star to four-star boutique hotels, and the room rates are priced between US$50 and US$150 per night.
BudgetHotels.sg will be partnering with Agoda.com, Asia's leading and fastest growing online hotel reservation service, to offer a unique, search-and-booking experience for travelers. Through the booking engine, travelers will be able to find great deals offered by the participating hotels.
For more information, please visit http://www.budgethotels.sg