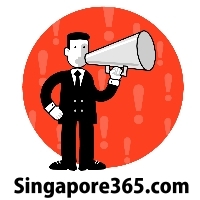 Frankly, I'm quite surprised with the number of submissions, although, we've had to reject a high volume because they either did not meet our strict, editorial requirements or did not contain Singapore-related news. Most users also did not take advantage of the SEO features offered, which we hope to address through education, by publishing tutorials on the website
Singapore (PRWEB) June 18, 2010
Larry Lim, Singapore's leading SEO and Online Marketing Consultant, officially launched Singapore365.com, an online Singapore press release website to help local companies gain exposure on the Internet. Submission is free and some of the notable features include a WYSIWYG composer for easy editing, the use of SEO-friendly anchortext links in the content, automatic generation of printer-friendly and PDF editions of the press release, and social media integration with sites like Twitter, as well as, local websites like Ping.sg.
"It's very easy to use. You simply register an account at Singapore365.com, copy-and-paste your press release, and use the WYSIWYG editor for formatting and adding text links. Upon submission, an editor reviews your press release, edits it as necessary and approves immediately for publishing, if there are no problems", explained Larry Lim.
"Since Singapore365.com is highly-optimized with local content, the submitted press releases tend to rank high in local search engine results, for example on google.com.sg. Readers could easily tweet or re-tweet about interesting articles via the integrated TweetMeme button, while at the same time, our system automatically sends content snippets to a couple of local websites through syndication partnerships", he continued.
Despite the lack of marketing and promotional activities, response has been encouraging thus far. Some of the users of Singapore365.com includes PR agency Brand Inc. and The Ascott Limited, the biggest serviced residence owner-operator in the world.
"Frankly, I'm quite surprised with the number of submissions, although, we've had to reject a high volume because they either did not meet our strict, editorial requirements or did not contain Singapore-related news. Most users also did not take advantage of the SEO features offered, which we hope to address through education, by publishing tutorials on the website", Larry commented.
In addition to Singapore365.com, Larry Lim also simultaneously launched ZOOM.sg, as a complementing service to help create even more online marketing mileage for local companies. ZOOM.sg is a free Singapore web directory that provides a growing listing of businesses in Singapore, and features integration with Google Maps, user reviews and company-submitted articles.
About Singapore365.com
Singapore365.com is an online press release service for local businesses and Singapore-related news releases. The service is free, and features include SEO-friendly textlinks and social media integration. For more information, please visit http://www.singapore365.com
About LarryLim.NET
Larry Lim is an Online Marketing Consultant, and has been providing SEO and Google Adwords consultancy in Singapore since 2005. Clients include Singapore Press Holdings, P1 WiMAX, iProperty, Popular Holdings and Edelman. For more information, please visit http://www.larrylim.net
# # #