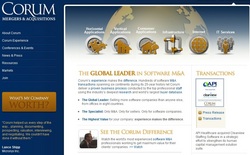 Bothell, WA (Vocus) July 15, 2010
Global M&A firm Corum Group announces that the #1 M&A training workshop for technology executives, its "Selling Up Selling Out" conference, is coming to Singapore on Tuesday, 27 July, 2010. This complete workshop for software executives is presented by Corum as rapid changes hit the market amid a flurry of recent deals.
"With a record rise in volume and valuations, 2010 may be the best year in the last decade for
mergers and acquisitions in software, IT, internet and companies in related technologies," explained Mark Reed, Executive Vice President and M&A advisor at Corum Group. "But a lot has changed in how it's done, and we are looking forward to helping busy execs understand the best ways to prepare for these potential new opportunities."
"Selling Up Selling Out" provides an in-depth update on current valuation trends and market drivers in the Software M&A. The Corum's Merge Briefing is a short 90-minute event that covers what's hot and what's not; why buyers buy and things software companies can do to maximize shareholder value. The presentation will be given by Reed, who will bring his extensive experience in US-based and cross-border software M&A transactions.
Most recently in related transactions in Singapore, Reed acted as the lead Corum M&A Advisor to Apex Systems Pte Ltd ("FirstApex"), which was purchased by NTT DATA Asia Pacific Pte. Ltd. ("NTTDAP"), a subsidiary of NTT DATA Corporation. Reed will speak about that and other experiences, and the global nature of current software M&A practice, with special attention to implications for Singaporean and other Asian companies seeking to build value and prepare for exit events while expanding in world markets. Corum operates worldwide, from headquarters in Seattle and Zurich plus offices in six other countries, and has experience closing transactions with Google, Microsoft, Intel, Symantec and many other market-leading companies all over the world.
When: Tuesday, 27 July, 2010. Begins at 13:00; ends at 17:30
Where: The Pine Club, 30 Stevens Road, 257840, (65) 6735 2288
Registration: Register here: http://www.corumgroup.com/Events.aspx
About "Selling Up Selling Out" Is it time to consider M&A? Find out what's driving current activity, which are the most active sectors, where are the hidden sources of buyers, and how to make your firm attractive to the strategic acquirers in today's global environment at Corum's Merge Briefing, conducted for software executives every month in cities around the world. In addition, hear from the experts about simple steps to increase your firm's value, the art of negotiating the optimal deal structure, and how to keep your transaction from failing due diligence.
About Corum Group Corum Group Ltd. is the world's leading seller of privately held technology companies with over 220 successful transactions in its 25 year history, generating over $6 billion in wealth for the owners. Corum Group provides merger and acquisition services to its global client base from offices in eight countries, and educates the industry though its acclaimed Selling Up Selling Out Conference and other events, including the Monthly Tech M&A Webcast. Corum's M&A advisors are highly experienced former tech CEOs, who are supported by the industry's leading researchers, writers and valuation experts.
###