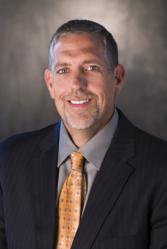 Dr. Kimball will bring innovative leadership to Singapore American School and he embodies the ideals of academic rigor, professional excellence, extraordinary care of students, creativity, and community building that lie at the heart of our mission.
Singapore (PRWEB) September 14, 2011
Dr. Chip Kimball, Superintendent of Lake Washington School District in Redmond, Washington, has been appointed the twelfth Superintendent of Singapore American School by the school's Board of Governors. Rudy Muller, Chair of the SAS Board of Governors, announced the appointment today in a letter to the SAS community.
Dr. Kimball, 47, will take office on July 1, 2012 and succeeds Dr. Brent Mutsch who previously announced that he is stepping down in June 2012 after five years as Superintendent of SAS.
"Dr. Kimball is a respected and proven educational leader with the depth and breadth of knowledge to enhance student learning through 21st century best practices," Mr. Muller said. "Dr. Kimball will bring innovative leadership to Singapore American School and he embodies the ideals of academic rigor, professional excellence, extraordinary care of students, creativity, and community building that lie at the heart of our mission."
Since 2007, Dr. Kimball has served as the Superintendent of Lake Washington, a nationally acclaimed school system recognized for its innovation, leadership, results-based strategies, and student achievement. In addition to increasing student achievement in an already high-performing school district, Dr. Kimball has led the introduction of a new STEM (Science, Technology, Engineering, Math) choice school which will be opening in the fall of 2012. Recently, Dr. Kimball developed and implemented his district's strategic initiative "Vision 2020," focusing on specific strategies to increase preparation for college, the global workplace, and personal success.
After acquiring a Bachelor of Arts in biology and chemistry from Whitworth University (1988) and a Master of Science in science education from Eastern Washington University (1991), Dr. Kimball taught science and coached water polo and swimming at Madera High School in central California. He received his Ed.D. in educational leadership with an emphasis in instructional technology from the University of Southern California in 1996. During his time at USC, Dr. Kimball was a teacher on special assignment at Madera High School, served as technology coordinator for the Fresno Unified School District in California, and worked for the California Department of Education. Dr. Kimball's appointment as a Center Fellow to the California Center for School Restructuring was a result of his expertise in integrating technology in the classroom.
In 1996 he was named Assistant Superintendent and Chief Information Officer for Lake Washington School District in Redmond, Washington, home of Microsoft and other leading technology companies, including Nintendo USA and AT&T Wireless.
Known for his strategic leadership in educational technology, Dr. Kimball has raised almost $4 million from public/private partnerships and grants and has developed programmatic partnerships with Microsoft, Boeing, Nintendo, AT&T Wireless, as well as local government agencies. Regularly sought after as a speaker, Dr. Kimball has spoken across the nation on transforming learning through technology, leadership, data driven decision-making, and the 21st Century Superintendent.
In addition to serving as an advisory board member for a variety of state and national projects focusing on technology and education, Dr. Kimball is co-chair for the 21st Century Superintendent Initiative sponsored by the Consortium of School Networking and the Pearson Foundation. He has also served as the Chief Education Strategist for the Paul G. Allen Family Foundation advising on education initiatives and their giving. He was the lead developer for the Technology Support Index project supported by the Bill & Melinda Gates Foundation and the International Society for Technology in Education.
Dr. Kimball said, "I am excited and honored to accept this role and I look forward to building on the many achievements of Dr. Mutsch, the faculty, and the Singapore American School community. It is clear to me that the multi-cultural SAS community is dynamic and embraces a focus on excellence and innovation. I am particularly pleased to have the opportunity to work in Singapore, which is a world-renowned leader in education."
Dr. Kimball's selection comes at the end of a robust process during which the SAS Search Committee, assisted by Spencer Stuart, met with an exceptionally rich pool of candidates. The Search Committee's work confirmed that leaders in education across the United States and the world were prepared to come to SAS because of the unique opportunities afforded by the school and because of its strategic location in Singapore, a country with a dynamic record of educational innovation.
ABOUT SINGAPORE AMERICAN SCHOOL
Singapore American School (SAS) is an independent, non-profit, coeducational, college preparatory day school offering an American curriculum with an international perspective from preschool through grade 12. Established in 1956, SAS primarily serves the American and international diplomatic and business communities. Today it is the largest single-campus international school in the world, with 3,878 students, 353 faculty members, and 222 support staff. SAS believes that tomorrow's leaders need an excellent foundation, cultivated in an environment that is both caring and challenging, where they can thrive and develop. SAS teachers promote rigorous learning by actively engaging each student, challenging them to reach their full potential. The school is known for its commitment to academic excellence and focus on community service.
Singapore American School
CPE Registration Number: 196400340R
Registration Period: 22 June 2011 to 21 June 2017
###