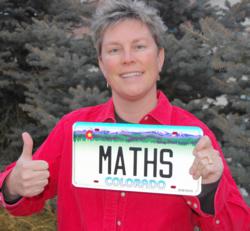 I'm thrilled to have an opportunity to spread the word about the Singapore Math® curriculum and, at the same time, help the Colorado League of Charter Schools to honor Charter School founders"
Fort Collins, Colorado (PRWEB) May 30, 2013
Singapore Math® Training presented by acclaimed elementary math educator Cassandra Turner is among the among the silent auction items offered in conjunction with the Colorado League of Charter Schools' 20th Anniversary Luncheon on Monday, June 3, 2013.
Turner donated one-day of Singapore Mathematics Training to the Colorado League's silent auction. Proceeds will support the League's 20th anniversary campaign, including advocacy programs and efforts to improve public awareness and understanding of charter schools.
The winning bidder will be able to choose from among several of Turner's day-long renowned Singapore Math® seminars or apply it to a multi-day implementation training. One day of Turner's training is valued at $2,500.
Turner is a Colorado resident and an internationally-recognized Singapore Math® teacher who has worked with more than 15 Colorado schools to have successfully implemented the Singaporean curriculum.
In addition to championing Math education, Turner is a long-time Charter School advocate and has close ties to two award-winning Charter Schools. She taught multiple grades at Benchmark School in Phoenix, Arizona, and is completing a three-year term as a member of the Board of Directors of Liberty Common School in Fort Collins, Colorado. Turner's two sons attended both Benchmark and Liberty Common.
"I'm thrilled to have an opportunity to spread the word about Singapore Mathematics and, at the same time, help the Colorado League of Charter Schools to honor Charter School founders," said Turner. "I'm a fan of the Colorado League of Charter Schools and truly appreciate all the great services they provide to charter schools."
The League's silent auction accommodates online bidding, and Turner is prepared to bring her training to schools outside Colorado. "If you don't already know", Turner said, "I'll go ANYWHERE to work with schools and teachers looking to use Singapore Mathematics."
Online bids will be accepted through May 31 at the following link:
Turner's acclaimed seminars receive rave reviews (these are ACTUAL quotes from seminar attendees):

Fabulous!! Cassy's energy, enthusiasm and knowledge make this one of the MOST FABULOUS days of staff development that I have been lucky enough to experience in 40 years! Thanks so much!
Cassy is wonderful! She has wonderful ideas and presents them with such enthusiasm! Amazing!!
Best seminar I have been to in my 25 years of teaching. Lively, worthwhile, keeps your attention. Taking back strategies and activities I can use in my classroom. Very motivating.
This seminar will significantly change how I approach teaching math problem solving with my high ability students. Cassy's energy and enthusiasm for math made the day fly!
Wow! Wonderful strategies! Can't wait to bring it to my classroom. Thank you!
This was the best workshop I have ever attended. Cassy was excellent.
Terms: training must be scheduled on a mutually agreeable date. Winning bidder may choose from several one-day seminar options or apply to a multi-day implementation training. For trainings outside Colorado Front Range communities, winning bidder will be responsible for reimbursing actual travel expenses (including, if applicable, fuel, rental car, airfare, lodging).
For more information regarding Turner's donation, visit singaporemathsource.com/win-singapore-math-training/.
About Cassandra Turner
Cassandra Turner has been "passionate about Singapore Math® Program" since first encountering it in 2001. An independent math trainer and coach since 2008, Cassy has had the pleasure of introducing Singapore Math to thousands of teachers, administrators and parents in 34 U.S. states, Mexico, Canada, Ghana and Palau. More than 60 schools have chosen Cassy to help them implement the curriculum.
As a teacher, Cassy used Primary Mathematics at several grade levels, then traveled to Singapore to see the curriculum from the source in 2007 and co-authored a Singapore Math® Training Manual approved by the State of California the following year. Cassy currently conducts two different Singapore Mathematics Workshops for the Bureau of Education & Research (BER) and hosts SingaporeMathSource.com (http://www.SingaporeMathSource.com), a website featuring news, resources, reviews and more.
In 2012, Cassy was awarded a contract by the Republic of Palau to assist the Ministry of Education (MOE) with the implementation of the Singapore Math Curriculum. In July 2013, she will be a featured presenter at the fifth National Conference on Singapore Math Strategies, hosted by Staff Development for Educators (SDE).
Since 2010, Cassy has served as a member of the Board of Directors of Liberty Common School, an award-winning Charter School in Fort Collins, Colorado. Cassy also serves on the Board of Directors of the Middle School Mathematics Institute (MSMI), a not-for-profit corporation whose mission is to help teachers, schools and parents ensure that students succeed at algebra.
Cassy is a devoted champion of Elementary Mathematics who loves to work with schools and teachers to make every child in every classroom a competent and confident mathematics student.
About the Colorado League of Charter Schools
The Colorado League of Charter Schools is a non-profit, membership organization dedicated to supporting the charter schools in the state. The League is committed to helping these schools reach higher levels of student performance and overall success by providing information and resources, including technical support, advocacy, public relations assistance, and much more.
Membership with the League is open to all charter schools in Colorado. The League also provides guidance and technical assistance for developing charter school groups, such as charter application reviews, contract negotiations, and general start up support.