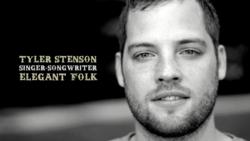 My hope is that someone will see the person within this film, crooked teeth and all, and simply say, Yes, I'd like to work with that guy.
Portland, OR (PRWEB) November 08, 2011
Navigating today's music industry is much like braving the Wild, Wild West of old; every man for himself. Knowing this cold reality well, Tyler Stenson is a tirelessly tenacious DIY musician that has self-funded and self-produced 10 albums in 10 years and now, holding true to his same signature of prolificacy, Stenson has just released a beautifully produced video EPK (electronic press kit) that aims to tell the story that extends beyond the music.
"My goal in making this video was to leave no doubt about exactly who I am as a musician, but more importantly, a person," says Stenson about his recently released video press kit. "A website with airbrushed photos and pre-recorded audio can only say so much, and can be manipulated to make you into anyone you want to be – video is much more stark and true."
From start to finish, the 6-minute video short is all at once humble and dazzling. Blending crisply dynamic footage from multiple live performances, music videos and interviews, the viewer gets an immediate sense of Stenson's obvious musical ability but is rewarded further by his engaging personability and authenticity.
"I'm not sure anybody's website alone could persuade an industry power that you're any different from the rest," Stenson admits. "My hope is that someone will see the person within this film, crooked teeth and all, and simply say, 'Yes, I'd like to work with that guy.'"
Although Stenson has nearly 90 videos of substantial quality already posted to his YouTube channel, this newly released video EPK shines with a next-level glow. So much, in fact, that in the first 48 hours, it amassed over 75 community shares on Facebook and nearly 700 unique views on YouTube.
With a number of notable songwriting accolades under his belt, there is zero doubt that Stenson's music is good enough to take him places but he's well aware that that just isn't enough these days. However, with this innovative promotional tool, filmed by Quarter 4 Sports and co-produced alongside with Stenson himself, this DIY musician that built his own website and does all of his own design, booking and promotions, hopes that the story beyond the music will be his maker.
Tyler Stenson is a singer/songwriter in Portland, OR that is increasingly known for his unique brand of elegant folk music. Along with spending 15 months as a singer/songwriter in Nashville, he has been twice-named the "Songwriter of the Year" by the Portland Songwriters Association, "Best Male Artist" at the Portland Music Awards, was nominated for the Wyoming Governor's Art Award, has opened for famed rocker, Chris Isaak, performed on OPB's Live Wire! Radio and has 10 studio albums being distributed internationally.
# # #