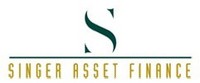 Boca Raton, FL (PRWEB) April 6, 2011
Singer Asset Finance Company, L.L.C. ("Singer Asset Finance"), which was founded in 1995, is a leading purchaser of structured settlement and annuity payments.
Singer Asset Finance recently announced the commencement of a new limited time incentive plan under which qualified new customers who request a free appraisal shall receive a $50 gift card. The recipients must be able to provide qualifying structured settlement annuity documentation demonstrating payments available for sale. Receipt of the gift card does not obligate the recipient in any way to sell structured settlement annuity payments to Singer Asset Finance.
"Whether or not someone is ready to sell his or her structured settlement payments, Singer Asset Finance is now willing not only to provide a free appraisal, but also give a $50 gift card to its customers just to go through the process of receiving an appraisal" said Singer Asset Finance's CEO, Howard Weinberger.
Singer Asset Finance will help develop a customized solution to assist its customers and will design multiple appraisals, as appropriate. Singer Asset Finance buys all, or just a portion, of its customers' structured settlement or annuity payments. Account Executives at Singer Asset Finance listen to the needs expressed by its customers and work to help satisfy those needs by selling the fewest structured settlement or annuity payments possible.
Singer Asset Finance is an industry pioneer and national leader in converting structured settlements, lottery winnings, and annuities into lump sums. Since inception, Singer Asset Finance has purchased nearly $1 billion in future annuity payment streams. Singer Asset Finance is a founding, and still current, board member of The National Association of Settlement Purchasers, the national trade association for companies who purchase structured settlement annuities.
For more information about Singer Asset Finance please visit its website at http://www.singerasset.com or contact Keith Wright directly via email at kwright(at)singerasset(dot)com, or call (800) 670-6777, extension 6700.
# # #