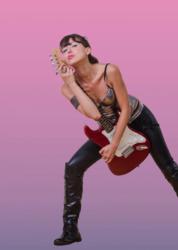 By determining 'realistic goals,' you disable yourself to connect with your real goal, which is what you really dream about. So, what is your goal? Your true goal is your dream.
(PRWEB) August 30, 2012
Singer songwriter, Elvira Kalnik shares her personal story as an up and coming crossover artist in a recent interview with the producer and host of Entrepreneur Podcast Network (EPN), Eric Dye. In a never before heard podcast, Elvira Kalnik shares how she became a musical artist, and how her love and dedication to the musical arts has changed her life forever.
"I started thinking about a musical career in childhood. I would entertain my friends and family all the time," says Elvira Kalnik. "My mom taught me to sing and play piano, and my dad taught me to play the guitar. I wrote my first song when I was 14, and recorded my first album a year later."
Revolutionizing the world of music with her variety of styles she incorporates on each album, her powerful lyrics and unconventional melodies puts to shame the traditional one-style set of songs most singer songwriters perform. Her first album, "Inside," includes an electronic pop/rock mix with jungle and operatic styles that one journalist called, 'psychedelic and should be forbidden.' Her second album, 'Peachy Pink' is a mixture of gentle rock, electronic, and pop with elements of jazz and jungle.
When asked how she manages as an independent artist, Elvira Kalnik says, "It takes a lot of time: writing, recording, tracking, promoting, performing, organizing, distributing and also spending time with my family. I guess, when you love what you're doing, it brings excitement and it's very rewarding."
In her free time, Elvira Kalnik shares what she loves doing most – travel. Growing up near the sea, Elvira Kalnik and her family visits different places throughout the U.S. and Europe where they like to engage in sports or relax with a dinner and a movie. Currently, Elvira Kalnik is planning the 2013 release of her next album, "Magical Child," her newest electronic/dance album featuring her single, "I Wish to Practice Me," in production now.
Completing the interview, Elvira Kalnik shared one last bit of advice to fellow independent musicians out there. "It is crucial to set your goal. For every creative person, it`s very important to keep you focused and determine the tasks you have to accomplish in order to achieve your goal. By determining "realistic goals," you disable yourself to connect with your real goal, which is what you really dream about. So, what is your goal? Your true goal is your dream. "
About Entrepreneur Podcast Network
Entrepreneur Podcast Network (EPN) is here to help entrepreneurs succeed and prosper in business. Whether entrepreneurs are seasoned business professionals or just starting out, EPN is a convenient asset and source in assisting people with building their business. EPN's media platform contains several elements, combining the best of internet as well as mobile distribution. Their on-demand streaming channel currently reaches 104 countries worldwide each month with interviews by some of the most renowned success stories in business today. It is the E Podcast Network – streaming on demand 24/7!
About Elvira Kalnik
Singer songwriter Elvira Kalnik is a European crossover artist who sings a variety of musical styles including contemporary pop, jungle music with an operatic quality, and gentle rock. Born in the Ukraine, Elvira has received high music and vocal education in both Ukraine and German conservatories. She produced her first album when she was 15 years old, and has been writing songs for the last 14 years. Her breakout album, Peach Pink, is a mixture of melodic styles with the lyrics written by her husband. Her next album, Magical Child, is in the works.