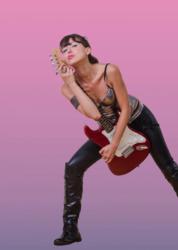 I think, it's very important to socialize with others, collaborate, share information and experience, but the most important is to learn.
Roseland, NJ (PRWEB) September 20, 2012
Featured guest, Elvira Kalnik shared her experience and expertise as an up and coming European singer songwriter artist last week when Sullivan Hall opened its door for the ReverbNation Revolution Roundtable dedicated to specific topics and issues independent artists and labels face today. Hosted by Jason Lekberg, VP of Digital Strategy and Marketing for Eleven Seven Music in New York City, Lekberg showcased his favorite ReverbNation tools and showed attendees how to use them effectively and efficiently.
"It was very interesting to listen to Jason Lekberg and learn new strategies in music promotion and management through ReverbNation," said Elvira Kalnik. "They addressed many interesting topics and issues answering questions other artists asked during the meeting."
Topics covered include the following:

How to cut through the clutter with targeted communication
3 easy ways to supercharge your online presence
How analytics can help you perfect your songwriting and sell more music
An overview of tools including Promote It, Gig Finder, Reverb Press Kits and more
ReverbNation charts and your Band Equity Score
Contributing her unique variety of styles to the musical culture, Elvira Kalnik is also actively involved with helping other artists by sharing her experiences as an independent singer songwriter in her "Weekly blog for creative people."
"I enjoy helping others. The only way to survive and succeed in today's world is to be open, share knowledge and support each other," said Elvira. "I think, it's very important to socialize with others, collaborate, share information and experience, but the most important is to learn. My favorite quotation is, 'Tell me, and I will forget. Teach me, and I will remember. Get me involved, and I will learn.'"
To read her blog or become a fan of Elvira Kalnik, visit http://www.reverbnation.com/elvirakalnik
About ReverbNation
ReverbNation provides over 2.51 million music industry professionals – artists, managers, labels, venues, festivals/events – with powerful, easy-to-use technology to promote and prosper online. Their wide array of distribution and promotional solutions provide the hands-on tools and actionable insights that allow musicians and industry professionals to reach their goals in an increasingly complex music world. ReverbNation operates worldwide with customers on every continent. In fact, over 30 million visitors come to reverbnation.com every month. And of course, they love music!
About Elvira Kalnik
Singer songwriter Elvira Kalnik is a European crossover artist who sings a variety of musical styles including contemporary pop, jungle, electronic music with an operatic quality, and gentle rock. Born in the Ukraine, Elvira has received high music and vocal education in both Ukraine and Germany. She started writing songs since the age of 14 and produced her first album when she was 15 years old. Her breakout album, Peach Pink, is a mixture of melodic styles with the lyrics written by her husband. Her next album, Magical Child, is in the works.