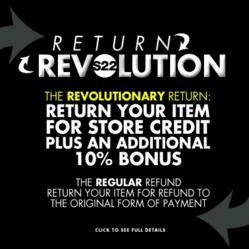 We believe this new refund/return policy is a game-changer.
East Hills, New York (PRWEB) April 08, 2013
SINGER22.com announces the launch of its new refund and return policy called Revolutionary Returns. The policy offers two choices for customers who may want to return their items. The Revolutionary Return enables customers to return their items for a store credit plus a 10% bonus. For example, a $300 revolutionary return would provide the customer with a $330 store credit to be used either online or in a SINGER22 retail location. The Regular Return allows customers to receive a refund in the original amount back to the original form of payment.
Prior to Revolutionary Returns, SINGER22 only provided one option for returns which was in the form of a store credit, which some customers complained about. "We heard what people were saying and wanted to make a big change," said Jon Singer, CEO and Founder of SINGER22. "We now offer regular refunds, but also give the customer the choice to receive a bonus if they choose store credit. We are very excited about this and believe this is a potential game-changing return policy."
SINGER22 was launched both online and as a retail store in 2003 by CEO/Founder Jon Singer. SINGER22.com enjoys the reputation as one of the Internet's top fashion destinations for cutting-edge contemporary brands as well and up-and-coming designers. Customers include international celebrities, stylists, and others from more than 30 countries around the world.