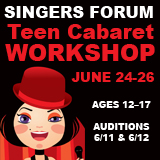 The three-day workshop will be directed by multi-award-winning director Lennie Watts. Acclaimed accompanist Jeff Cubeta will serve as musical director.
New York, NY (PRWEB) June 06, 2011
Singers Forum, a non-profit musical oasis committed to providing the highest quality vocal training for New York City residents, will be offering a weekend intensive Teen Cabaret Workshop from Friday, June 24 through Sunday, June 25.
The workshop fee is $400 and auditions will be held on Saturday, June 11 and Sunday, June 12. Singers Forum is located at 49 West 24th Street, 4th Floor. For more information and to schedule an audition call 212.366.0541.
The three-day workshop will be directed by multi-award-winning director Lennie Watts. Acclaimed accompanist Jeff Cubeta will serve as musical director. The workshop will cover performance and interpretive techniques and explore the lyrics and style of songs.
Each participant will work on three songs of different styles and genres during the weekend. Guests from the Broadway and cabaret worlds will speak to the group about performing. At the end of the weekend, the group will perform in a show in New York City.
Lennie Watts is a eight-time MAC (Manhattan Association of Cabarets), five-time Backstage Bistro, and three-time Nightlife Award winner. He is the only person to receive awards as an outstanding vocalist, director, producer, and booking manager.
He has been active in the New York cabaret scene for over 20 years. In addition to directing in small cabaret venues, he has directed events at Symphony Space, Town Hall, and BB King.
He has toured nationally and internationally with productions of The Music Man (Marcellus) and The Wizard Of Oz (Lion). Other roles: Psuedelus (A Funny Thing…), Herod (Jesus Christ Superstar), Nicely Nicely Johnson (Guys and Dolls), Jinx (Forever Plaid).
He has performed at Town Hall in several concerts, including Broadway Unplugged and Broadway By The Year, 1949, and can be heard on the cast recordings of both shows. As a theater director, he has directed productions of Godspell, Dames at Sea, Joseph And The Amazing Technicolor Dreamcoat, and Phantom. Watts is the creator of "Cablab" and "Summer In The City" (with Lina Koutrakos), both critically acclaimed professional cabaret performance workshops.
David Finkle of The Village Voice calls him "A one man cabaret army!" He appeared on The Rosie O'Donnell Show, and released his debut CD I want… You want… in 2000. He was voted "Best Male Vocalist 2008" by the members of Cabaret Hotline Online. He is currently the President of MAC, and was just named one of "The 50 Most Influential People in New York Cabaret" by Nightlife Exchange.
Jeff Cubeta is in demand as a vocalist, musical director, and rock musician. As a vocalist he performed the tenor solo in Orff's Carmina Burana with The Three Rivers Choral Society. He sang as tenor soloist at First Presbyterian Church of Pittsburgh and has sung as a guest soloist at Chelsea Community Church in New York. He currently is rehearsing a new solo cabaret act tentatively scheduled to make its New York premiere in the autumn of 2011.
As a musical director, Mr. Cubeta returned to Feinstein's at Loews Regency with Eric Michael Gillett in February 2011, performing Mr. Gillett's show Widescreen: Songs From and About the Movies. Other shows performed with Eric Michael Gillett (in New York and on tour nationally) have included Cast of Thousands (showcasing the work of esteemed composer and lyricist Craig Carnelia), and Best of My Love. Jeff musical directed Eric Michael Gillett and Raissa Katona Bennett in Romance in These Times, and he musical directed the 2010 Bistro Awards, including performances by Liz Callaway, Cheyenne Jackson and Danielle Grabianowski.
Singers Forum's mission is to engage a diverse student body of singers in an situation dedicated to the development and appreciation of the vocal arts. With a strong emphasis on vocal technique, combined with numerous performance opportunities in a safe and supportive environment, Singers Forum strives to offer a full array of private instruction and group classes for both professional and personal growth.
Utilizing a roster of dynamic and successful teaching artists who each have their own professional singing and musical backgrounds and successful careers in the arts, Singers Forum has developed our students' performance skills in a wide variety of vocal styles and genres that range from opera to cabaret, musical theatre to jazz, folk to pop and all genres in between!
For more information visit SingersForum.org or call 212.366.0541.
###