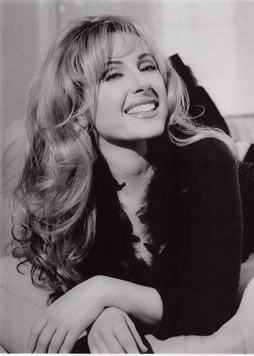 Tarzana, CA (PRWEB) October 13, 2006
Monica Margolis, a Los Angeles based vocal coach and founder of the "Monica Margolis Method" of vocal training is launching a new website. Monica has been teaching vocal mechanics to singers, actors, dancers, and speakers for almost 20 years. She has worked in theater and film, appeared in variety shows, worked as a voiceover artist and was chosen as Musical Director for the West Coast Dance Theatre. Monica specializes in teaching her vocal method to artists at every level of their career, from the young beginner to the major label artist. Students fly in from around the country and around the globe for "The Monica Margolis Method": the revolutionary approach to vocal training and technique. Not only has she developed a loyal following as a vocal coach, Monica also collaborates on projects with world-class musicians ranging from country songstress LeAnn Rimes to rock legend Gene Simmons.
Monica believes there are no secrets to singing correctly. If you use proper vocal mechanics you will find what you are looking for. In this pursuit she developed the Monica Margolis Method, which teaches "healthy singing" whereby the student learns to sing using their natural speaking voice, eliminating stress and pressure from the vocal chords. Students also learn to rely on their diaphragm for support and power. Because of its effectiveness, The Monica Margolis Method has become one of the most successful programs in the United States. Monica's students have been accepted to some of the world's most prestigious singing programs including Cal Arts, The Berkeley College of Music and UCLA. Under Monica's guidance, many of her younger students have been accepted to some of Southern California's premiere performing art's high schools. Monica's students have also been featured on shows such as Entertainment Tonight, Extra, The Teen Choice Awards, Late Night with David Letterman, E! and Apollo Kids, and in the publications Time, People, Tiger Beat and Pop Star Magazine. Monica's clients have also had the opportunity to work with A-list producers such as Tim Kelly/Bob Robertson (Baby Face, Boys 2 Men, destiny's Child) and the Wizard of Oz Production Company (Ricky Martin). No wonder she has been called the vocal mentor to the stars of today and tomorrow!
Monica's first stage was a wooden stepping stool in the living room of her childhood home. Her great grandparents would sit on the sofa enjoying her sweet renditions of the songs she was learning in nursery school. At 2, talent scouts singled Monica out of the crowd at school, which led to her first performance in front of a large audience. She was hooked; even at such a tender age she knew singing and performing would be a part of her life forever. Monica grew up performing in the hit kid's performing troupe Starmakers. When she auditioned she had no idea that the group was only looking for boys, but once the director saw Monica and heard her sing, it was all over. They hired her on the spot. With the group Monica toured all over Southern California performing at celebrity functions, amusement parks and many other venues, garnering awards and accolades.
Monica began teaching vocal mechanics at the age of 18 and was asked to be the Musical Director of the West Coast Dance Theatre. For two years she created all the vocal arrangements for the theatre while maintaining a busy teaching schedule. Soon her appointment book was overflowing with students and professional vocalists as well as celebrity clients and she decided to dedicate herself to coaching full time.
Monica has collaborated on past and current projects with artists such as Natalie Raitano– star of the Pamela Anderson hit TV series VIP, Cindy Margolis– internet supermodel, actress and TV Host, Dineh Mohajer– entrepreneur and founder of Hard Candy make-up, Eyvette Barlowe– lead singer of the hit group (and Rick James produced) The Mary Jane Girls and TV host, Angel Faith– lead singer of the Platinum group No Secrets and now a solo artist, Stanley Clark, George Duke, George Clinton, producer Danny Niam of The Cave studio who has worked with stars that range from Patti Labelle to Justin Timberlake and recently Monica lent her expertise to The Eagles producer Charles Faris's Hollywood Hooligans project.
Monica also worked along side world-renowned vocal coach Seth Riggs for over 10 years, however she graciously declined being an associate due to her own growing following. Seth Riggs has made a name for himself in the industry as vocal coach to A-list performers such as Kim Basinger, George Benson, Michael Bolton, Belinda Carlisle, Ray Charles, Cher, Natalie Cole, Susan Dey, Kirsten Dunst, Sherilyn Fenn, Robert Guillaume, Julio Iglesias, Enrique Iglesias, Janet Jackson, Michael Jackson, Al Jarreau, Nicole Kidman, Val Kilmer, Nathan Lane, Madonna, Tobey Maguire, Marilyn McCoo, Bette Midler, Liza Minelli, Shirley Murdock, Eddie Murphy, Ozzy Osborne, Ruth Pointer, Prince, Bonnie Raitt, Molly Ringwald, Lionel Ritchie, Nicole Ritchie, Diana Ross, Nina Simone, Tina Turner, Deniece Williams and Stevie Wonder and worked with members of En Vogue (Terry Ellis), KISS (Paul Stanley), Stevie Wonder (Ben Bridges, Greg Phillinganes), Motley Crue (Vince Neill, Ray Pound, Hank Redd, Mike Sembella, Nathan Watts), Lou Rawls (Judy James, Yvonne Wright), Eurythmics (Anni Lennox), Chicago (Peter Cetera, Bill Chamberlain, Jason Scheff), Bob Dylan (Carolyn Dennis, Helena Springs, JoAnne Harriss), Fleetwood Mac (Billy Burnett), The Supremes (Diana Ross, Cindy Birdsong, Linda Laurence, Joanne Turrell, Mary Wilson), Marvin Gaye (Johnny Simon, Florence Lyle), Shalimar (Howard Hewitt), Red Hot Chili Peppers (Anthony Kaedis), Aerosmith (Joe Porter) and Lincoln Park (Chester).
The Monica Margolis Vocal Arts Studio is currently accepting new students for private and group lessons. To find out more about Monica and the Monica Margolis Method you may visit her website at http://www.monicamargolis.com to get a more detailed look and see what students have to say about her innovative and effective method.
# # #