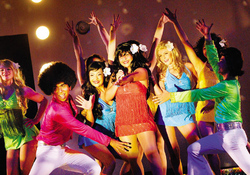 "Sing for 1000 people at the Herbst Theatre in San Francisco!"
San Francisco, CA (PRWEB) July 6, 2010
The San Francisco Children's Musical Theater seeks solo, duet, and group acts featuring kids ages 4-21 to star in a one night, non competitive showcase at the Herbst Theatre. Perform on stage for 1000 people at the majestic Herbst Theatre in San Francisco on Sunday, August 22nd or Sunday, September 5th. (Singers will appear in one Sunday performance)
San Francisco Auditions: Saturday, July 31st, 2010. 11:00am – 4:30pm. (By Appointment)
Audition Location: King George Hotel. 334 Mason Street. San Francisco, CA 94102
Select a dynamic song that really shows off your personality and pipes! The song you sing at auditions, should be the same song you would like to sing in our live showcase. For more information, or to make an appointment to audition, please visit: http://www.sfcmt.com/auditions
More about SFCMT:
San Francisco Children's Musical Theater (SFCMT) is dedicated to offering high quality performing arts experiences to young actors ages 5-21 in the San Francisco Bay Area. Since 1985, SFCMT Artistic Director and Founder, John Bisceglie, has directed and choreographed hundreds of community, commercial, and professional productions featuring actors of all ages. For nine years, Bisceglie held the title of Artistic Director for San Jose Parks and Recreation's Young People's Theater, and has been serving Gilroy's Community Services Department in the same capacity for the past nineteen years. As a recent recipient of numerous outstanding achievement awards from the Bay Area Theatre Critics Circle, he is thrilled to expand his colorful and elaborate children's theater productions to the San Francisco community.
Bisceglie and all of us at SFCMT inspire kids to activate their individual creative aspirations and instill the motto that "everyone has talent and can succeed" regardless of age, experience and natural ability. We believe in empowering young talent and find it amazing what a little responsibility, teamwork and spotlight can do. You will always see a variety of talents and ages in our productions, from first timers to seasoned veterans. Ultimately, they always exceed our expectations as well as their own and are an inspiration to all who see them perform.
We at SFCMT are passionate about theater and believe it to be as important to a child's upbringing as reading, writing, and arithmetic. Cast members are encouraged to naturally develop their imagination and self esteem while building lifelong skills such as creativity, dedication, self-discipline, and cooperation.
Our exciting and convenient 10-week program, with "Saturday only" rehearsals, makes participation in SFCMT productions fun and easy for busy Bay Area families.
Learn more about our people, programs and productions at: http://www.sfcmt.com
###