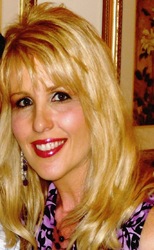 Los Angeles, California, USA (Vocus) October 2, 2009
TheNetStar.com announced that Lisa Illobre, of Lebanon, Tennessee, USA has won the grand prize of a $75,000 recording and distribution singing contract with a Grammy Award winning production team in their Country/CCM singing competition.
During most of the five rounds of competition Lisa trailed in 3rd position behind Martine Kelsey in first place. With a one-in-a-million chance of happening, at the final round voting, there was a tie between Martine and Lisa. Each contestant had received 1,951 in the final round.
TheNetStar.com then went to the secondary tally according to the contest rules, which is to count only unique votes for each contestant. That is only one vote per verified email address. Both young ladies were anxiously awaiting the final result. When the secondary tally votes were counted, Lisa had won by a mere 2 votes.
Because of the passion that had been built up in the fans of both contestants emails started pouring in to TheNetStar.com. Many were complementary and a few felt upset with the results. There were even a couple of accusatory complaints stating the contest had been fixed.
TheNetStar.com ( http://www.thenetstar.com ) GM, Michael J. Badagliacco had this to say, "My statistician told me the odds of this happening were 10 million to 1. I was a little awe struck with the tie, but then when we did the secondary tally of unique votes and Lisa won by only 2 votes I was beside myself. We never expected such a close race in any of our competitions. But the voters make the final decision and I want to congratulate Lisa and look forward to working with her to produce and distribute her recordings. I also want to say that Martine was an incredible competitor and I wish her all the best." Michael went on to state, "The security, reliability and integrity of our voting system is without question. I understand the feelings some of the voters had about the results. I am sure this will spawn the contestants in the future to do even more to get their friends and family to help promote votes for their contest."
The next Country singing competition qualifying voting starts November 16th. Participants are urged to head over to http://www.thenetstar.com and register to enter.
Anyone interested in new singing talent is urged to go and listen to the contestants and cast a vote for their favorite singer. Voting is simple just go to http://www.thenetstar.com and click on the tab that interests you, either Pop/Rock/R&B, CCM/Gospel or Country, listen to the contestants and cast your vote or sign up to compete.
TheNetStar, an internet company, offers singers the opportunity to enter their singing competition, which relies solely on votes cast by the people online, to judge their contest submissions. Performing artists can submit their entries at anytime, in any of the new following categories: Pop, Rock, R&B, Contemporary Christian, Gospel and Country Music.
TheNetStar monthly competitions are not "auditions" - visitors vote online for their favourite performer based on instrumentation and production values, as well as the quality of each entry; therefore, they recommend all submissions be recorded, professionally, to achieve the best sound.
After this extraordinary competition, entrants have been pouring in and this next competition promises to be fierce, so if you have been considering entering, but haven't done so yet, there is no time like the present. Just visit http://www.thenetstar.com and fill out the entry form right there on the Home page.
Contestants compete for a $75,000 recording and distribution contract produced by a Grammy Award winning production team provided by TheNetStar (http://www.thenetstar.com), as well as other valuable prizes.
Contestants submit a nominal administrative fee of $47.00 (US Dollars) to enter the world wide competition. Past genres included Pop/Rock of which Cathy Griffin won the inaugural competition, R&B/Hip Hop of which Robert Nevels won and the current Country/Contemporary Christian Music (CCM) winner Lisa Illobre.
A new competition starts every month and each runs for 90 days. Anyone with singing talent can compete to become the next "NetStar". Entrants simply upload their song in video (flv) or audio (mp3) format for the world to vote on.
The worldwide audience selects the winner, through several rounds of elimination, solely by online voting. Voting is free.
Anyone with singing talent can compete in the competitions. Persons interested in competing can register at http://www.thenetstar.com.
Media interested in covering the ongoing battle of the new stars can contact Michael J. Badagliacco.
Contact:
Michael J. Badagliacco, Gen Mgr
949-829-1399
###