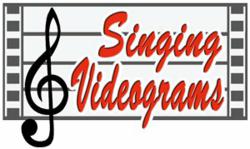 What do you send the man who already has everything? A song, "Happy Birthday To You", of course!
Windsor, CO (PRWEB) July 21, 2011
SingingVideograms.com is a new website for customers seeking musically authentic online greetings for their friends, family, or colleagues. The website and product was created by Bob Foss, the CEO of the production company Riffactory Inc.
Concerning the launch of the website, Bob Foss said, "In May, 2009, I was pondering what to send my Grandpa for his birthday. What do you send the man who already has everything? A song, "Happy Birthday To You", of course! After doing a Google search, I found no simple version of "Happy Birthday Dear Grandpa" available on the Internet. That's when I was inspired to produce this new website with these new videos for the world to use when they want to send a classy, elegant, and timeless greeting for someone's birthday."
There are nearly 700 personalized studio performances of the popular song, "Happy Birthday to You" located on this new website for online greetings. All are sung by the McPhly Quartet, one of the leading Barbershop singing groups in the United States.
Personalizing a singing videogram is simple; there are numerous popular names and common salutations of "Happy Birthday to You" performances available. Customers are able to choose an authentic background for the birthday-gram. Once the singing concludes, customers are able to display an individualized message to their colleague, friend, or family member.
The singing videograms are sent through email and the recipient can replay the video as desired. The sender is also notified when the recipient views the Singing Videogram.
To spread the news of this website, like SingingVideograms on Facebook.
About SingingVideograms.com:
SingingVideograms.com offers online, classic, authentic musical greetings for special occasions. It was founded on June 25, 2011 by Riffactory Inc owner Bob Foss.
About Riffactory Inc:
Riffactory Inc, based out of Northern Colorado, is a small production company in the live concert and festival market. It has been producing shows since 2005.
About McPhly Quartet:
The McPhly Quartet is a new and upcoming vocal group from the Denver area. In its short existence, McPhly has performed in 11 states, won the BHS's Rocky Mountain District Championship, and placed 15th at the most recent Barbershop Harmony Society's International Contest.
Contact:
Bob Foss, CEO
220 10th St
Windsor, CO 80550
970-576-2818
info(at)singingvideograms(dot)com
bobfoss(at)riffactory(dot)com
http://www.singingvideograms.com/
###