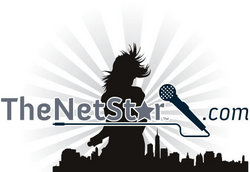 Artists need more than a recording contract
Camas, WA (PRWEB) April 10, 2009
TheNetStar.Com, a new online music industry concept, launched its site today which will give singers as real alternative to competing on American Idol®. TheNetStar "09 Session-I" Competition, in the Rock/Pop genre begins, April 1, 2009, and is open to anyone 18 years of age or older who is not currently tied to a personal recording, management or songwriting contract and wants to display their talent. Other "Session-I" Competitions begin in other genres in successive months. On May 1, 2009, The R&B/Hip Hop competition begins and on June 1, 2009 Country and Christian Music singers will get their shot. The cycle begins again on July, 1, 2009 as the Pop/Rock genre sets for "Session II". Singers who are interested in competing for their contract can enter by submitting the low $40 entry fee that entitles each contestant to a gift worth $99. To register for TheNetStar Online Singing Competition Go to http://www.TheNetStar.com
Many singing competitions have given artists all over the world hope that they can do what they love and gain the ever-elusive financial benefits that fame and fortune bring. Singers and artists pour their lives into their music many without ever getting the exposure needed to become truly successful in the industry.
"Artists need more than a recording contract," according to Michael Badagliacco, GM of TheNetStar.Com. "They need an advocate and a process that favors them in order to break in the business." First, we are bringing fans and artists together before the artist launches their recording career. Secondly and most importantly, we are providing a tremendous package that is awarded for the artist to get a strong launch to their career. Moreover, we provide training from vocal coaches such as Dr. Scott Martin from the Julliard School of Music in NY." However, it is also a win for us to produce an artist that the fans have proven to be popular and fun to listen to, it is a win to the artist to get such a great start in their singing career and to create a following right out of the shoot. This is really an invaluable experience for them.
Fans 'prove' that the artist is a favorite by voting on the TheNetStar.Com website, during the singing contest. Each fan votes only once per contest segment, allowing for a true representation of the contestants fan base. The voters determine the winner of the recording contract and TheNetStar determines the winner of the management contract. TheNetStar.com has the security in place to allow only one vote per voter, the system gives a true representation of fan support. Once the winner's package is complete--fans can purchase and download it instantly from the website for artist that they have been following. "It is a great opportunity for fans and an even greater opportunity for the artists," says Badagliacco.
Pop/Rock Vocalists who want to sign up for the "'09 Session-I" Pop/Rock Music contest, must do so between April 1 and April 21, 2009,
R&B/Hip Hop Artists who want to sign up for the "'09 Session-I" R&B/Hip Hop Music contest, must do so between May 1, 2009 and May 21, 2009,
Country Music/CCM Vocalists who want to sign up for the "'09 Session-I" Country/CCM Music contest, must do so between June 1, 2009 and June 21, 2009, all at http://www.TheNetStar.com
For additional information about the contest. Contact Michael Badagliacco, info (at) thenetstar (dot) com
###