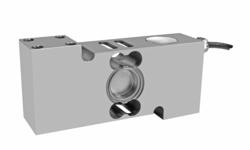 Demand for the PC7 was growing before it was even officially launched so we're expecting plenty of enquiries, from the food and pharmaceutical sectors in particular.
Cardiff, Wales (PRWEB) May 02, 2013
World class weighing solutions provider Flintec has launched a new range of high accuracy single point load cells for challenging food and pharmaceutical environments.
The global load cell manufacturer's new PC7 load cells are rated to IP69K and IP68 protection levels to cope with regular washing down using high pressure cleaning equipment.
Flintec's new PC7 single point load cells have been specially designed for scales and other equipment subject to extreme forces – or where the designer specifies oversize platform dimensions.
The new load cells are rated 100kg, 250kg and 500kg and certified to OIML 4,000d by the UK's National Measurement Office (NMO).
They are constructed from electro-polished stainless steel to comply with best practice in the food processing and pharmaceutical sectors.
Flintec Group Managing Director David Weeks said: "Other manufacturers have struggled to overcome the traditional trade-off between strength and accuracy.
"Previously in the industry, stronger load cells tended to be less sensitive and less accurate – whereas more precise load cells were weaker and less able to cope with extreme conditions.
"But at Flintec, we want to deliver the best of both worlds – high quality, extremely accurate load cells that can withstand the most punishing environments.
"How do we deliver this? Simple – it's down to innovation, good design and our resolute refusal to be beaten by a challenge. We welcome challenging projects that other companies have tackled less well."
The new PC7 owes its existence to precisely this scenario. The customer was unhappy with the accuracy levels provided by a previous supplier's load cell and so tasked Flintec to design and manufacture a superior replacement.
In just a few months, the load cell experts at Flintec had designed and manufactured prototypes and installed them at the customer's factory.
Since then, Flintec has received similar enquiries from other customers, requiring solutions for which the new PC7 is ideally suited.
"Demand for the PC7 was growing before it was even officially launched so we're expecting plenty of enquiries – from the food and pharmaceutical sector in particular," said Mr Weeks.
Flintec is one of the world's biggest load cell manufacturers. The group has design teams in the USA, UK and Sri Lanka.
The company designs and manufactures a wide range of load cell and force measurement products including:

Beam type and planar beam load cells
Transducers, shear pins and extensometers
Weighing modules
Analogue amplifiers, digitising units, displays, measuring instruments and junction boxes.
For further details about Flintec's off-the-shelf and customised load cell solutions, please contact David Weeks, +44 (0)2920 797959.
-Ends-
Information for Editors:
Flintec UK Ltd
W4, Capital Point
Capital Point Business Park
Wentloog Avenue
Cardiff, CF3 2PW
Tel. +44 (0)2920 797959
Fax +44 (0)2920 797939
Flintec is one of the world's largest manufacturers of precision load cells and strain gage electronics – innovating a diverse range of force measurement solutions for customers who demand optimum accuracy, quality and customer service.
Founded in Sweden, the company has focused upon the design and manufacture of strain gages, load cells, measurement electronics and software for a diverse industry base from weighing machinery to new markets in the medical device, industrial and agricultural machinery and process automation sectors.
Flintec is part of the Swedish Indutrade Group listed on the OMX Nordic Exchange Stockholm. Indutrade comprises 160 subsidiaries with 3,800 employees and annual revenues in excess of $1 billion.
Flintec's teams have always actively sought out the most difficult load cell weighing and force measurement challenges. Flintec innovates solutions for applications that rival firms have either ignored or tackled badly.
In recent years, Flintec has expanded with:
two hi-tech major manufacturing facilities in Sri Lanka (at Katunayake and Koggola)
sales, distribution and customer support facilities in the USA, Brazil, Sweden, Germany, the UK, France, Italy, Sri Lanka, China and India
1,000 highly-trained employees committed to developing innovative measurement solutions, maximum accuracy and rapid delivery.
Major sectors served include medical device manufacturing, process weighing, weighing machinery, industrial and agricultural vehicles, test and measurement plus process automation and control.