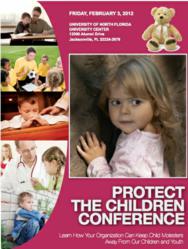 Most organizations rely heavily on criminal background checks as their strongest safety measure for keeping children safe. However according to ChoicePoint, these checks provide little protection from child sexual abusers.
Jacksonville, Florida (PRWEB) January 13, 2012
On February 3, 2012, the University of North Florida's University Center in Jacksonville, Florida will be the location for a one day educational conference dedicated to promoting greater public awareness and education about the impact child sexual abuse outside the home has on our families, communities, businesses and organizations. Donald J. Dymer, chief executive officer of SingleSource Services Corporation, a leading background screening company for sixteen years and headquartered in Jacksonville Beach, Florida, is the conference sponsor and organizer. Dymer is encouraging all those who are involved with the care, education and mentoring of children and youth to attend this important conference.
Why Jacksonville?
Jacksonville was named the 1st Pinwheel City in the USA by Prevent Child Abuse America in 2010. The Pinwheel designation was designed to further advance policies and procedures to help prevent child abuse.
Headlining the conference will be Dr. Gene Abel, Director of Research at Abel Screening in Atlanta. Dr. Abel has won numerous honors and awards for his work and research projects that have uncovered new information to help prevent child sexual abuse. Dr. Abel's awards include: The Association for the Treatment of Sexual Abuser's Significant Achievement Award and The National Adolescent Perpetrator Network's Award for Outstanding Research. Dr. Abel is also co-author of the book: "The Stop Child Molestation Book: What Ordinary People Can Do In Their Everyday Lives to Save Three Million Children."
Joining Dr. Abel will be Leslie Nichols, Vice President Club Safety and Design at the Boys & Girls Clubs of America. The conference agenda includes other noted professionals from the nation's leading organizations who will provide invaluable insight on what people can do to identify and prevent child sexual abusers from becoming the volunteers or employees who will have youth entrusted to their care.
"Until the sensationalism of child sexual abuse was uncovered at Penn State and later at Syracuse, victims and advocates faced years of challenges to get the public's attention focused on this insidious, on-going threat to children and youth." explains Dymer. "No one discussed 'boundary issues', let alone understood them." After attending the Protect the Children Conference these terms will have meaning and attendees will be armed with the tools for change. The information shared at the conference is so substantive, the attendees will be eligible to receive continuing education credits from the American Psychological Association, the National Board for Certified Counselors and the Society of Human Resource Managers.
Critical issues that will be discussed include: the effects of long term abuse, the early age at which sexual abuse often occurs, the child's reporting of the offense, parental reaction, and a review of institutional responses to such cases. Attendees will receive training in how to identify abuse and the tools that are available to enable them to make better decisions when hiring or selecting volunteers for their business or organizations.
Traditional background screening methods aren't going to provide enough of a deterrent explains Dymer. In a study of 3,700,000 criminal background checks reported by ChoicePoint, only one-tenth of one percent of the entire screened pool was identified as having a criminal history related to sexual offenses. Most organizations rely on criminal background checks as their strongest safety measure toward keeping children safe,however the reality is that criminal background checks provide very little protection from child sexual abuse.
Conference sponsor and organizer, Don Dymer, CEO of SingleSource Services summarizes, "The problem has been swept under the rug for years. As horrid as the situation was at Penn State and Syracuse - and the new reports of similar child sexual abuse are, we must hold onto to this moment in time while we have everyone's attention to STOP the sexual abuse of children. Children are helpless to stop sexual abuse, only adults can stop child molestation."
To find out more about the conference, please contact Donald J. Dymer at SingleSource Services Corporation at the telephone number below. To register for the event, visit http://www.singlesourceservices.com/protectthechildren or call 1.800.713.3412.
# # #