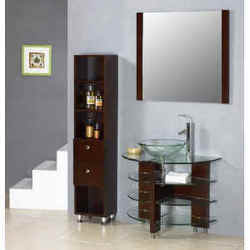 San Diego, CA (PRWEB) September 25, 2008
Premiere Vanities is thrilled to present the newest contemporary style single vanity of their collection, the Mahogany Glass Shelf Vanity. This stylish piece is a delightful and aesthetic response to the increasing demand for modern and sleek designs that are very chic yet practical for bathroom furnishings.
This beautiful, contemporary, single glass vanity has a clear glass finish for a crisp and clean look, along with a beautiful mahogany wood frame. The rounded semi-circle shelves are also finished with a clear glass, and provide ample storage space for all of your bathroom accessories. The piece itself is made to the highest standards of quality and is specifically constructed to insure durability. Like all of Premiere Vanities' glass vanities, you have the option to customize your bathroom's vanity, with dozens of glass bowls to choose from. There are several faucets available, including the always popular, waterfall faucet that beautifully complements this stunning piece of furniture. Another exciting aspect to this new vanity is that it can be completed as a set. There is a coordinating linen cabinet, as well as a beautifully framed mirror, created with the same elegant mahogany wood.
This stunning single sink bathroom vanity is just one of the many new and refreshing models that this discounted bathroom furniture specialist offers on their website; http://www.premierevanities.com . Premiere Vanities is excited to add this bold piece to their ever growing collection of unique double and single bathroom vanities online. As bathrooms continue to grow in stature, being the second most important room in the home when it comes to buying or selling, Premiere Vanities stands up to meeting those demands by continuing to provide the most practical and beautiful vanities in such a large selection that they're sure to match any home's décor.
About Premiere Vanities:
Premiere Vanities is the leading online source and retail site for bathroom vanities, with a passion for making every bathroom a stylishly unique and beautiful room in every home. They offer a selection of single sink bathroom vanities, double sink bathroom vanities, vanity sets, bathroom cabinets, bathroom furniture and bedroom vanities. With vanity products in antique, wood, traditional, and contemporary interior design styles, we are confident that our customers can find bathroom and bedroom vanities that will be chic and beautiful additions to their homes. Premiere Vanities offers quality bathroom and bedroom vanities and furniture at low prices, with FREE SHIPPING in the continental U.S., and a great customer service experience.
###