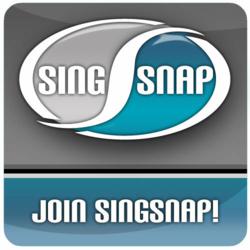 As always, the catalyst for this change is our members and the feedback we get from them on what they want. They challenged us, and we responded - Trevor McGuire
(PRWEB) November 30, 2011
SingSnap recently unveiled their improved online karaoke recorder to its eagerly awaiting membership. Trevor McGuire, President and CEO of SingSnap Karaoke says, "This version vastly improves the sound quality and ease of use of online karaoke recordings here on SingSnap."
The improved version of SingSnap's recorder has been in development for a little over a year, and underwent strenuous beta testing before being introduced to the community at large, says Jason Copp, SingSnap's Chief Technical Officer, "This recorder is like a mini recording studio right on your computer, it's very user friendly and we've introduced some new features that really make it easy to record quality sounding renditions of your favorite songs".
New features include a Clipping Detection tool, which senses when vocals are too loud and automatically lowers the recording volume to prevent distortion on playback. SingSnap has also implemented a Lyrics Speed adjuster allowing users to speed up or slow down the visual display of lyrics in the recording window to better anticipate the next phrase.
Back end improvements also provide users with a much more enjoyable recording experience. Synchronization between the music backing track and the vocal track has been refined with much smaller synchronization adjustments than previously available, giving the member much more control over the outcome of their finished recording. SingSnap's "Make Me Sound Better" button, which provides studio quality reverb and compression to a vocal track, has been tweaked and refined and with the addition of mp3 music backing tracks, creates a truly professional sounding result. A big fix on this version is again on the "Make Me Sound Better" button wherein a member can actually hear the effects as they are applied before saving giving them a truer preview of their finished project.
"As always, the catalyst for this change is our members and the feedback we get from them on what they want", says Trevor McGuire. "They challenged us, and we responded".
###