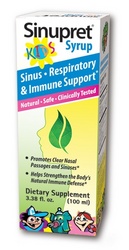 While not a drug for sinusitis, it is a natural aid for sinus health. Parents are looking for a natural and safe approach for their kids
SAN CLEMENTE, Calif. (PRWEB) September 18, 2008
The availability of Sinupret for Kids comes at a good time since The Food and Drug Administration (FDA) has just announced it will conduct a review and revise criteria for over-the-counter (OTC) cough and cold medicines for children under 12 due to safety concerns.
"With OTC medicines' safety and efficacy now in question, parents need safe and effective non-drug options that keep children healthy," said Dr. Narinder Duggal, MD, renowned internist and pharmacologist, and associate professor at the University of Washington. Not a drug to treat disease, but a natural remedy to support the maintenance of healthy sinus, respiratory, and immune system function, Sinupret for Kids syrup is Dr. Duggal's choice for healthy kids. "For healthy sinus and respiratory support, I recommend a natural product that has been used in Germany by physicians for almost 75 years for adults. Today the kids' version, which has been on the market in Europe for 30 years, is available in the US."
Sinupret for Kids syrup promotes healthy drainage in the upper respiratory tract, improves airflow in the nose and supports healthy mucous flow in the nose and sinuses.
The natural remedy is developed through a proprietary blend of European Elder, Sorrel, Cowslip, European Vervain, and Gentian that supports healthy sinus and respiratory function for children 2 and older.
Sinupret for Kids has been widely studied and cited as safe and effective in numerous medical journals and, does not contain stimulants, caffeine, ephedra, pseudoephedrine, codeine, steroids, narcotics or gluten.
Renowned pediatricians, family practitioners, pharmacists and naturopaths in the US were asked to test Sinupret for Kids during the winter of 2007-2008, including Dr. Bob Sears, Dr. Jay Gordon, Dr. Marcus Laux and Dr. Duggal. Their positive experiences resulted in dispensing Sinupret for Kids to hundreds of families.
"Of the products that I have examined, I prefer Sinupret for Kids which is made by a German company with a long track record for its effectiveness and lack of any harmful side effects," said Dr. Bob Sears. "While not a drug for sinusitis, it is a natural aid for sinus health. Parents are looking for a natural and safe approach for their kids," he concluded.
Bionorica, maker of Sinupret, is one of the world's leading makers of clinically proven healthy products, and number one in Germany, that established a unique principle, "phytolution," identifying and researching the best in nature and using the most innovative technology to create effective and safe remedies. Bionorica is registered in over 35 countries as a phytopharmaceutical product. From April 2007 – April 2008, over 7.5 million units of Sinupret were purchased in Germany alone, with over a half a million units purchased for kids under 12.
"We are proud to be able to bring Sinupret for Kids to the US market to give parents a safe and effective product that has been tested with over 3,000 children in just one of Bionorica's scientific studies," said Dr. Michael Popp, CEO of Bionorica, AG.
Sinupret for Kids syrup is rolling out now to over 20,000 retail locations across the country. Visit http://www.sinupretforkids.com and click the store locator for locations.
Note to editors:   -- Interviews available:   -- Dr. Bob Sears, M.D., F.A.A.P. (pediatrician)
-- Dr. Jay Gordon, M.D., F.A.A.P. (pediatrician) -- Dr. Narinder Duggal, M.D., PhD (pharmacologist and internist) -- Dr. Marcus Laux, N.D. (naturopathic physician) -- Dr. Michael Popp, CEO of Bionorica, AG -- Scott Bukow, CEO, Bionorica US   -- Product artwork and samples available upon request