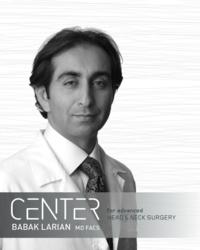 Los Angeles, California (PRWEB) November 15, 2011
Allergy and sinus problems can leave patients with persistent discomfort, and in some cases can be life threatening. Babak Larian, a board-certified head and neck surgeon, is a highly regarded allergy and sinus surgery specialist in Beverly Hills and utilizes image-guided sinus surgery technology to eliminate the pain associated with allergies and other sinus conditions.
Image-guided sinus surgery is a revolutionary treatment option for those who have chronic sinusitis, polyps, or frontal sinus disease. "This advanced procedure works like a GPS system for me. The image-guided technology uses a sophisticated three-dimensional mapping system that uses real-time data and CT scans for accurate navigation of the sinus anatomy without damaging nearby tissues," said Dr. Larian. This advanced level of precision helps Dr. Larian avoid complication during the surgery.
Precision is particularly important in sinus surgery procedures because of the proximity to the eyes, brain and other vital organs and arteries. These areas are of great concern when surgery is taking place in the sinus region. With the help of the image-guided technology, Dr. Larian is able to safely guide the surgical instruments through intricate sinus passages and provide relief to his patients more precisely and easily than before.
Dr. Babak Larian, the Chairman and the Director of the CENTER for Advanced Head & Neck Surgery in Los Angeles is a highly experienced and reputable, board-certified ear, head and neck surgeon, specializing in ear, nose and throat surgery. Dr. Larian is nationally renowned for his expertise in minimally invasive surgery techniques in the treatment of sinus, thyroid, parathyroid, salivary glands and throat disorders.
For more information about the CENTER please visit http://www.LarianMD.com
###